Laurie Frankel Writes About the Reader Response to Goodbye for Now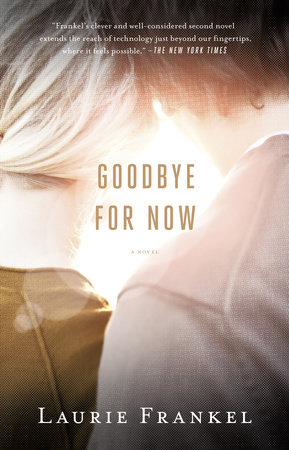 Goodbye for Now by Laurie Frankel is a unique tale of love and technology. To help his girlfriend, Meredith, cope with the sudden death of her grandmother, Sam Elling creates a computer simulation that will allow the two to have one last conversation. The technology is so good that Sam and Meredith start a company to help others who have lost a loved one—but for every person who just wants to say goodbye, there's someone else who can't let go.
In this exclusive Reading Group Center essay, Laurie Frankel discusses the reader reaction to the book—and explains why she felt it was important to write a reading group guide!
I have received lots of emails about Goodbye for Now that begin, "I've never written to an author before but…" I have participated in lots of video chats with book clubs that begin, "We've never used Skype before but…" I've had lots of notes from readers who've said, "I don't usually like books with technology and computers but…" I've even had some half-apologetic messages that begin, "I know you must get emails like this all the time, but I have to tell you how much I loved Goodbye for Now." First of all, let me tell you, authors never get tired of receiving those emails, so no need for the apologetic intro: those emails make my day. Every time.
Secondly, all those buts delight me. It's quite something to get these communications that people seem to make in spite of themselves. There's something wonderful about hearing from unusual readers. In the case of Goodbye for Now, I've heard from healthcare workers, grief counselors, widows and widowers and others in mourning, people I would classify as survivors, readers whose own stories are painful and heartbreaking, readers it is my privilege to have touched.
Because so many of them are book-club-newbies, I wrote up a reading group guide. Because so many of them have never used Skype before—and the book itself features so much video chat—I put a tutorial up on my website. Because the book takes twists and turns, I had my software engineering husband design the discussion questions to remain hidden until clicked on in order to avoid spoilers. It is—I come back to this word—a privilege to interact with these readers who aren't used to interacting with authors, and I am lucky to be living in—and writing about—a world in which tools like author websites and Facebook and Skype and hidden discussion questions are available.
My enthusiasm for hidden reading questions is also due to this fact: I used to be a college literature teacher. I wrote discussion questions about books for a living. When my first novel, The Atlas of Love, came out, I was still teaching full-time, so my compulsion to pose provocative questions in order to stimulate discussion about a book was sated. By the time Goodbye for Now came out, I'd become a full-time writer. Speaking of privileges, I am incredibly lucky and blessed to be doing something as dreamlike as writing novels for my day job; but without official students, the number of readers eagerly awaiting my insightful textual questions has dropped precipitously. I quiz my husband about books we read together. I ask probing questions of my four-year-old. "Consider the interaction between Mickey and Minnie Mouse, sweetie. Do they seem to reinforce or to undermine traditional gender norms? How do you see that relationship reflected or challenged by your own life experiences?" It's not the same. So posing questions about my own book to people who are eager to consider them—rather than people who listen because they want a good grade or are related to me—was not an opportunity I could pass up. Thank you, thank you, thank you for perusing them here!

Schedule a reading group chat with Laurie Frankel! Click for more details.