Andrew Porter's Debut Novel Is a Portrait of a Family on the Brink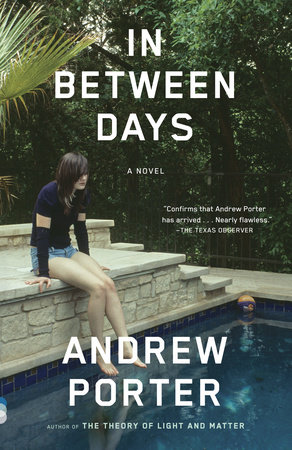 From a commanding new voice in fiction comes In Between Days: a novel as perceptive as it is generous; a portrait of an American family trying to cope in our world today; a story of choices and doubts and transgressions.
The Harding family of Houston is in the midst of an upheaval. Elson—once one of Houston's most promising architects, who never quite lived up to expectations—is recently divorced from his wife of thirty years, Cadence. Their grown son, Richard, is still living at home: driving his mother's minivan, working at a local coffee shop, resisting writing career that beckons him. But when Chloe Harding gets kicked out of her East Coast college, for reasons she can't explain to either her parents or her older brother, the Hardings' lives start to unravel.
Chloe returns to Houston, but the dangers set in motion back at school prove inescapable. Told with piercing insight, taut psychological suspense, and the wisdom of a true master of character, Andrew Porter's debut novel is about the vagaries of love and family, about betrayal and forgiveness, about the possibility and impossibility of coming home.