Anne Rice on Crafting the Cosmology of Her Bestselling Werewolf Series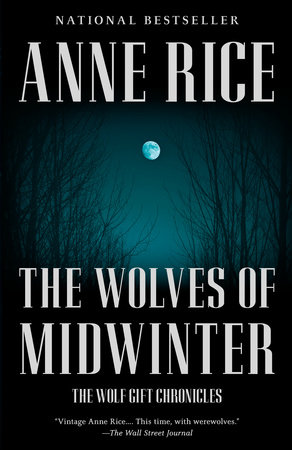 Anne Rice reinvented the vampire genre with Interview with the Vampire, and werewolf lore is next on her list. She returns to paranormal with The Wolf Gift Chronicles series—featuring a new type of supernatural creature that's part wolf and part man but is ultimately vintage Rice! In the first book in the series, The Wolf Gift, Rice introduced us to Reuben Golding, a young journalist who was launched into a strange new world through the bite of a mysterious beast. In the sequel, The Wolves of Midwinter, Reuben—now infused with the Wolf Gift—is preparing to honor an ancient Midwinter festival with his fellow Morphenkinder, a secret gathering that takes place deep within the verdant recesses of the surrounding forests. Read on for an excerpt from a Q&A with Anne Rice—arguably the best world builder of our time—in which she talks about the joys of crafting the new cosmology, fitting the fantasy elements into a modern setting, as well as her future plans for the series. Use this insight into Rice's paranormal prowess to launch a discussion about the Morphenkinder and their world.
The new cosmology is terrific fun. Since this is a brand new series, I'm able to evolve a whole new type of supernatural character—the morphenkind, or man wolf—and make up an origin story for the species and work with what powers these creatures have and so forth. I've loved that.  But as always the novels are about character, and I do love the new cast—Reuben my youthful hero, his family, and the contemporary setting. As always I like blending a family story with a supernatural story. I've done this with the Mayfair Witches and to some extent with the vampires. But the very most fun? I guess the new cosmology—that Reuben the Man Wolf is a comic book hero, living a double life as a reporter and a man wolf.
• • •
If Reuben is to be believable as a contemporary reporter he has to be involved with technology. I have to ask myself, how would he use all the technological devices we have today in confronting the Wolf Gift? It's only natural that he would photograph himself in transformation with his iPhone, and look up werewolves on the web, and of course write down his thoughts on his computer. It would be a failure of imagination to try to present some atmospheric gothic world today in which technology doesn't exist. We supernatural writers have to meet the challenges of today in writing our stories. I love the gothic atmosphere of Nideck Point,…but to present a quaint world without flat screen TVs, or desk top computer or iPhones, would just be ridiculous and shallow. I believe that great gothic stories can be told today as well as ever and that referencing all our technological advances can be done with no sacrifice of romance or gothic thrills.
• • •
[A]s the series continues we will learn much more about the history of the Morphenkinder. I already have a big surprise brewing for book three. And of course we have only begun to see in this second book how morphenkinder from other parts of the world can make serious trouble for Reuben…and the inhabitants of Nideck Point. I feel that in these two Wolf Gift books I've opened many doors and I want this to develop into a huge fantasy series.