Linda Spalding Shares the Historical Fiction That Inspired Her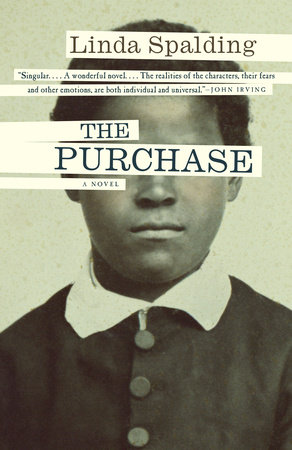 Itself an engrossing piece of historical fiction, Linda Spalding's The Purchase tells the story of a Quaker family in eighteenth-century Virginia, who come to possess a young slave boy. In order to accurately portray the details of that era, Spalding not only scoured primary texts and works of nonfiction but also explored a number of historical novels set on the American frontier. Here, Spalding offers some thoughts on a few of those works and explains how they inspired and informed her own novel. Consider using these as a springboard for a discussion of the historical context of The Purchase.
From the Author:
When I want history, I usually prefer nonfiction. Doing research for my own books, I turn to bookstores that sell volumes long out of print in order to find the spirit and tone and trivial details of a time and place. I'm actually reluctant to read fiction that depicts the era I'm working on. But some novels make history vibrate with life, and they are  inspiring aids. They stay with you long after your research is done.
Fifty years ago, John Ehle wrote a living, breathing story called The Land Breakers, which is unique in its wonderful dialogue and obstreperous characters. Ehle's Appalachian novels can be read in whatever order you are lucky enough to find them because they are entwined and interrelated. In The Journey of August King, a man coming down from the mountain, bound for market with his small array of goods and animals, meets up with a runaway slave girl who challenges every particle of his worldview. It is an almost perfect fable, utterly satisfying.
Writing The Purchase, I needed to learn a great deal. I had a special interest in wagon trains, and James D. Houston's book Snow Mountain Passage threw me headfirst into a Conestoga wagon on its long and eventful journey to California. This riveting novel about the Donner party explores the insane vanity and perseverance of the westward enterprise better than anything else I have read, and it was exactly the irreverent backward glance I wanted before taking up the writing of my own family's adventure* in fictional form.
Another remarkable story of that journey is A Sudden Country by Karen Fisher. Loosely based on her family's own 1847 migration to Oregon, it is beautifully unheroic and intimate. I have read many Oregon Trail journals, but this novel goes straight to the tribulation endured by the migrants; and I treasure that encounter with the past because I felt part of it. Novels reflect reality as seen and felt by the creator and then the beholder. It is the commitment of entering another point of view I celebrate. On the part of both writer and reader.
—Linda Spalding
*In an essay about The Purchase, Linda Spalding reveals the real-life story behind the novel:  "The story is based on a few facts I knew about my grandfather's grandfather, a Quaker abolitionist who became a slave owner in 1798." Click here to read the entire piece.