5 Family Sagas to Read for Thanksgiving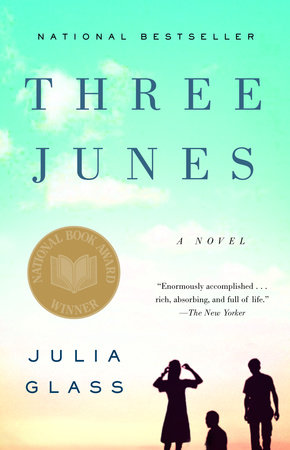 What better way to get in the Thanksgiving spirit than by reading a family saga? The five novels that we've highlighted below brilliantly capture the complex relationships that often exist among loved ones. Marital feuds, parenthood foibles, sibling rivalry, and generational differences abound—but no one said that being a family is always easy! Probing the true meaning of kinship, these emotionally charged novels will warm your heart and make you yearn for your childhood home. You might want to keep tissues handy!
Three Junes by Julia Glass
An astonishing award-winning first novel that traces the lives of a Scottish American family over a decade as they confront the joys and longings, fulfillments and betrayals of love in all its guises.
In June of 1989 Paul McLeod, a Scottish newspaper publisher and recent widower, travels to Greece, where he falls for a young American artist and reflects on the complicated truth about his marriage. Six years later, again in June, Paul's death draws his three grown sons and their families back to their ancestral home. Fenno, the eldest, a wry, introspective gay man, narrates the events of this unforeseen reunion. Far from his straitlaced expatriate life as a bookseller in Greenwich Village, Fenno is stunned by a series of revelations that threaten his carefully crafted defenses. Four years further on, in yet another June, a chance meeting on the Long Island shore brings Fenno together with Fern Olitsky, the artist who once captivated his father. Now pregnant, Fern must weigh her guilt about the past against her wishes for the future and decide what family means to her. In prose rich with compassion and wit, Three Junes paints a haunting portrait of love's redemptive powers. Get the reader's guide >
Maine by J. Courtney Sullivan
For the Kellehers, Maine is a place where children run in packs, showers are taken outdoors, and old Irish songs are sung around a piano. As three generations of women arrive at the family's beach house, each brings her own hopes and fears. Maggie is thirty-two and pregnant, waiting for the perfect moment to tell her imperfect boyfriend the news; Ann Marie, a Kelleher by marriage, is channeling her domestic frustration into a dollhouse obsession and an ill-advised crush; Kathleen, the black sheep, never wanted to set foot in the cottage again; and Alice, the matriarch at the center of it all, would trade every floorboard for a chance to undo the events of one night, long ago. Get the reader's guide >
Instructions for a Heatwave by Maggie O'Farrell
London, 1976. In the thick of a record-breaking heatwave, Gretta Riordan's newly retired husband has cleaned out his bank account and vanished. Now, for the first time in years, Gretta calls her children home : Michael Francis, a history teacher whose marriage is failing; Monica, whose blighted past has driven a wedge between her and her younger sister; and Aoife, the youngest, whose new life in Manhattan is elaborately arranged to conceal a devastating secret.
In a story that stretches from New York City's Upper West Side to a village on the coast of Ireland, Maggie O'Farrell explores the mysteries that inhere within families, and reveals the fault lines over which we build our lives. Instructions for a Heatwave weaves an unforgettable narrative of a family falling apart and coming together with hard-won, life-changing truths about who they really are. Get the reader's guide >
Family Tree by Barbara Delinsky
For as long as she can remember, Dana Clarke has longed for the stability of home and family. Now she has married a man she adores—whose family can be traced back to the Mayflower—and is about to give birth to their first child. But what should be the happiest day of her life becomes the day her world falls apart. Her daughter is born beautiful and healthy, and in addition, unmistakably African American in appearance, a heritage she's sure her family does not share. Dana's determination to discover the truth about her baby's lineage becomes a shocking, poignant journey. A superbly crafted novel, Family Tree asks penetrating questions about family and the choices people make in times of crisis. Get the reader's guide >
Some Luck by Jane Smiley
On their farm in Denby, Iowa, Rosanna and Walter Langdon abide by time-honored values that they pass on to their five wildly different children: from Frank, the handsome, willful first born, and Joe, whose love of animals and the land sustains him, to Claire, who earns a special place in her father's heart.
Each chapter in Some Luck covers a single year, beginning in 1920, as American soldiers like Walter return home from World War I, and continuing through the early 1950s, with the country on the cusp of enormous social and economic change. As the Langdons branch out from Iowa to both coasts of America, the personal and the historical merge seamlessly. Taking us through cycles of birth and death, passion and betrayal, among characters we come to know inside and out, Some Luck is a powerful, engrossing new novel—giving the life and times of a remarkable family over three transformative decades in America. Get the reader's guide >