5 Great Reads Set in New England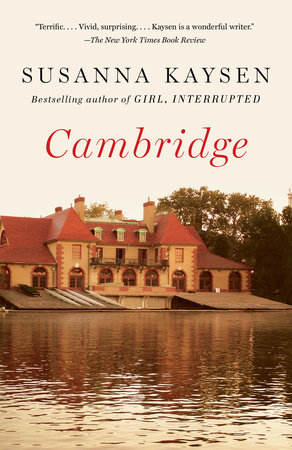 A cup of hot cocoa by a blazing wood fire can help banish the January chills. Why not enhance the experience with an engrossing read set in New England, an area of quaint towns and gorgeous scenery? Our itinerary will take you on a literary tour of Cambridge, the idyllic Ivy League town; Cape Cod, with its beautiful beaches and maritime history; and Maine, whose virgin pine forests and pristine coastal towns draw visitors year round. Roast some marshmallows and soak up the charm of this quintessentially American region!
Cambridge by Susanna Kaysen
"It was probably because I was so often taken away from Cambridge when I was young that I loved it as much as I did…"

London, Florence, Athens: Susanna, a precocious young girl growing up in 1950s Cambridge, would rather be home than in any of these places. Uprooted from the streets around Harvard Square, she feels lost and excluded in all the far-flung cities to which her father's career takes the family. She always comes home with relief—but soon enough wonders if outsiderness may be her permanent condition.
Written with a sharp eye for the pretensions—and charms—of the intellectual classes, Cambridge captures the mores of an era now past, the ordinary lives of extraordinary people in a singular part of America, and the ways we can—and cannot—go home. Get the reading guide>
That Old Cape Magic by Richard Russo
For Griffin, all paths, all memories, converge at Cape Cod. The Cape is where he took his childhood summer vacations, where he and his wife, Joy, honeymooned, where they decided he'd leave his LA screenwriting job to become a college professor, and where they celebrated the marriage of their daughter Laura's best friend. But when their beloved Laura's wedding takes place a year later, Griffin is caught between chauffeuring his mother's and father's ashes in two urns and contending with Joy and her large, unruly family. Both he and she have also brought dates along. How in the world could this have happened?
By turns hilarious, rueful, and uplifting, That Old Cape Magic is a profoundly involving novel about marriage, family, and all the other ties that bind. Get the reader's guide>
Maine by J. Courtney Sullivan
For the Kellehers, Maine is a place where children run in packs, showers are taken outdoors, and old Irish songs are sung around a piano. As three generations of women arrive at the family's beach house, each brings her own hopes and fears. Maggie is thirty-two and pregnant, waiting for the perfect moment to tell her imperfect boyfriend the news; Ann Marie, a Kelleher by marriage, is channeling her domestic frustration into a dollhouse obsession and an ill-advised crush; Kathleen, the black sheep, never wanted to set foot in the cottage again; and Alice, the matriarch at the center of it all, would trade every floorboard for a chance to undo the events of one night, long ago. Get the reader's guide>
The Secret History by Donna Tartt
Donna Tartt, winner of the 2014 Pulitzer Prize for her most recent novel, The Goldfinch, established herself as a major talent with The Secret History, which has become a contemporary classic.
Under the influence of their charismatic classics professor, a group of clever, eccentric misfits at an elite New England college discover a way of thinking and living that is a world away from the humdrum existence of their contemporaries. But when they go beyond the boundaries of normal morality their lives are changed profoundly and forever, and they find out how hard it can be to truly live and how easy it is to kill. Get the reader's guide>
The Woman Upstairs by Claire Messud
Nora Eldridge is a reliable, but unremarkable, elementary school teacher in Cambridge, Massachusetts. But the arrival of the Shahid family—dashing Skandar, a Lebanese scholar who's taken a visiting professor position at Harvard, glamorous Sirena, an Italian artist, and their son, Reza—draws her into a complex and exciting new world. Nora's happiness pushes her beyond her boundaries, until Sirena's careless ambition leads to a shattering betrayal. Told with urgency, intimacy, and piercing emotion, this New York Times bestselling novel is the riveting confession of a woman awakened, transformed, and abandoned by a desire for a world beyond her own. Get the reader's guide>
Continue your New England reading streak with these additional suggestions!