A Love Story for Our Time: Dinaw Mengestu's All Our Names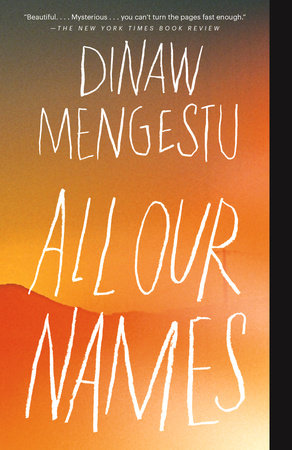 Spanning continents and generations, Dinaw Mengestu's All Our Names is an immigrant story exploring universal themes of identity, new beginnings, and human connection. But for Vintage Books editorial assistant Tom Pold, there's one element that forms the heart of the novel. Enjoy his note below—it's full of wonderful insights that come from working so closely on the book! 
All Our Names is many things: a commentary on race in America, a chronicle of life during wartime, an immigrant narrative, but, at its heart, it's a love story. Or, more accurately, a pair of love stories, following the two relationships that come to define Mengestu's protagonist, Isaac, a young Ugandan man who leaves for the US when his country descends into violence.
The most obvious of these love stories is, of course, the romance between Isaac and Helen, the social worker assigned to help him adapt to life in America. She and Isaac have grown up in radically different worlds—he desperately poor and, once he leaves home, permanently isolated from his family; she more comfortably middle class, yet trapped within the confines of the small Midwestern town in which she grew up, and smothered by the mother with whom she still lives. But in spite of this, their feelings for each other lead to a union that changes them both.
Standing in contrast to this exquisitely written, traditional tale of star-crossed lovers from different parts of the world, the less obvious second love story in the novel is the platonic one between Isaac and his best friend. To call them simply "friends" is to underplay the depth of feeling between the two men. They share nearly everything, and the lengths to which they will go for one another are without limit. It is from this friend that Isaac learns what it is to belong, to be part of something bigger than himself and, most important of all, to truly care for another human being.
As with all good love stories, both of these narrative threads have their twists and turns, and it is through the complications that we as readers come to understand Isaac. As a character, he is initially something of a blank slate, but by tracing the two most important relationships of his life, we learn who he is, what he stands for, and the lengths he will go to for those he cares for. It is as a follower—first of his firebrand friend and then of his only American contact—that Isaac engages with the world and community around him. Comparing the pivotal moments in both relationships, and Isaac's respective decisions, one for himself, the other for another, that we see how these relationships have shaped him. It is this journey that gives the novel its gripping emotional core, and which makes it very much a love story for our time.
Read an excerpt from All Our Names and get the reader's guide for great discussion ideas!