Katherine Heiny on the Books That Inspired Single, Carefree, Mellow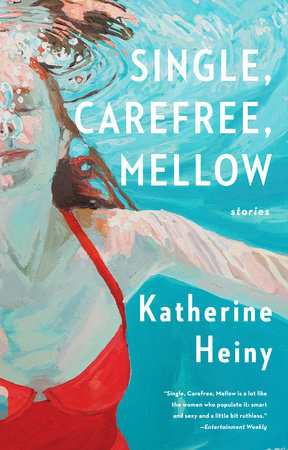 We always feel lucky to get a glimpse of an author's writing process—especially when it's someone whose work we love—and our latest obsession is Katherine Heiny's endlessly clever, laugh-out-loud funny, and entirely badass debut, Single, Carefree, Mellow. The commitment-averse women who populate the stories in this collection practically jump off the page, so we had to find out more about how Heiny came up with these characters. Below she shares some of the most important influences on her stories—the books she was reading while she wrote them!
1) I was reading Black Sunday by Thomas Harris the weekend I wrote "How to Give the Wrong Impression" and I chose "Dahlia" as the name for my narrator's goth-chic love rival in honor of Dahlia Iyad, the sexy Palestinian terrorist. My original name choice was "Brenda," which doesn't have the same ring at all. I envy anyone who hasn't yet read Harris's novel about a plot to commit mass murder in an attack on the Super Bowl and law enforcement's race to stop it from happening. It doesn't feature Hannibal Lecter, but it's insanely compelling, and as always, Harris's prose is knot-tight.
2) It's obvious which book I was reading when I wrote "The Rhett Butlers." I was really struggling to find a way to show that the teenage protagonist of the story was growing tired of her affair with her history teacher—it was very important to me that she outgrew him, not the other way around—and I finally hit on the idea of having the teacher sign them into sleazy motels under various literary pseudonyms. When he uses "The Rhett Butlers," she thinks it's romantic; by the time he's down to "Mr. and Mrs. Bilbo Baggins," she knows it's over.
Margaret Mitchell's Gone with the Wind is my favorite book. My first child's middle name is Mitchell—that's how much I love it. I used to reread it every year, now only once every three years or so because I don't want it to get stale. The novel is so rich and beautifully told, and nothing can stop its racing narrative.
3) When my dog died, I was rereading Almost Paradise by Susan Isaacs. I began developing a story about a girl whose dog and relationship are failing simultaneously, and I chose the name "Rhodes" for Maya's boyfriend because the Rhodes in the Isaacs novel is sarcastic and funny and I hoped my Rhodes would be also. My husband read an early draft of "Single, Carefree, Mellow" and suggested that perhaps Rhodes was named after Cecil Rhodes, the explorer, which led me to name Rhodes's sister "Magellan," and having their names be one of the things about his family that drives Maya up the wall.
It's impossible to describe the premise of Almost Paradise without embarrassing yourself by using words like "love story" and "heartbreaking" and "unforgettable" so I won't even try. Just know that it's witty and fascinating and Isaacs's sentences are to die for.
4) When I was writing "Cranberry Relish," and the main character, Josie, compares falling in love with someone online to falling in love with an author, one of the authors I chose to have her fall in love with was Dr. Seuss. I was cleaning out my sons' bookshelves that week and even though my sons are teenagers now, I couldn't bear to part with a single Seuss book. My character Josie is in love with him—and I am, too.
My favorite Dr. Seuss book is probably The Sleep Book, although we recently watched How the Grinch Stole Christmas and I was just amazed by the brilliance of it. Just think: there was no Grinch until Theodor Geisel decided there should be. I can't even imagine what it would be like to have so much talent.
—Katherine Heiny