7 Not-to-Be-Missed Novels with Young Protagonists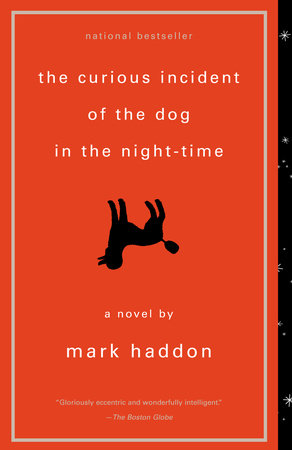 Adult lives are usually the subject of adult books, but as anyone who has experienced adolescence knows, lots of life happens before eighteen. From the trials of elementary school birthday parties and the bumpy road of first love to encounters with bigotry and navigating the uncertain landscape of an afterlife exclusively for thirteen-year-olds, the characters in these books handle their problems as best they know how. The protagonists on this list may be young, but the stories they tell are sure to inspire readers of any age. Check out the novels below and let us know any books we missed over on our Facebook page!
The Curious Incident of the Dog in the Night-Time
by Mark Haddon
"Full of whimsical surprises and tender humor." —People
Christopher John Francis Boone knows all the countries of the world and their capitals and every prime number up to 7,057. One day, a neighborhood dog is impaled on a garden fork, and Christopher, initially blamed for the crime, decides to discover the identity of the real killer. He turns to Sherlock Holmes for inspiration as his investigation leads him down unexpected paths, ultimately bringing him face-to-face with the dissolution of his parents' marriage. The Curious Incident of the Dog in the Night-Time is a comedy, a heartbreaker, a mystery story, and a novel of exceptional literary merit that is great fun to read.
Read an excerpt | Get the reader's guide | Read an author Q&A
---
How to Write a Novel
by Melanie Sumner
"Sweet, clever, and fun." —Kirkus Reviews
Aristotle "Aris" Thibodeau, age 12.5, is writing the Great American Novel. According to Write a Novel in Thirty Days! it shouldn't be that hard—all she needs to do is write what she knows. Conveniently, Aris's world is full of people who are more fun to write about than live with, like her single mother, Diane. Aris knows that if Diane would just accept that the perfect man is already under her nose—Penn MacGuffin, handyman, nanny, and self-described PMI ("Positive Male Influence")—their lives would change for the better. After all, nothing gets a novel off the ground like a budding romance. But when a random accident exposes Aris to a dark part of her family's history, she's forced to confront that fact that sometimes in life—as in great literature—things might not work out exactly as you hoped.
Read an excerpt | Browse discussion resources
---
The Night Circus
by Erin Morgenstern
"Morgenstern's exquisitely realized world will have [you] wishing to run off and join the circus." —USA Today
Within Le Cirque de Reves, black-and-white striped canvas tents lies an utterly unique experience full of breathtaking amazements that only appear at night. But behind the scenes, it is a battleground for a fierce competition: a duel between two young illusionists, Celia and Marco, who have been trained to fight since childhood by their mercurial instructors. Unbeknownst to them, this is a game in which only one can be left standing, and as the stakes rise and Celia and Marco tumble unexpectedly into love, it leaves every player's fate hanging in the balance.
Read an excerpt | Get the reader's guide | Read an author Q&A
---
Claire of the Sea Light
by Edwidge Danticat
"Fiercely beautiful…. Brims with enchantments and surprises." —Los Angeles Times
Claire Limyè Lanmè—Claire of the Sea Light—is born into love and tragedy in Ville Rose, Haiti. Claire's mother died in childbirth, and her father, Nozias, wonders if he should give away his young daughter to a local shopkeeper, who lost a child of her own, to give Claire a chance at a better life. But on the night of Claire's seventh birthday, when at last he makes the wrenching decision to do so, she disappears. As the people of Ville Rose look for her, painful secrets, haunting memories, and startling truths are unearthed within the community, whose individual stories connect to Claire, to her parents, and to the town itself.
Read an excerpt | Get the reader's guide
---
"A coming of age tale flipped on its head, with a subtle depth and poignancy." —The Rumpus
One minute, Oliver "Boo" Dalrymple is next to his locker at school reciting the periodic table from heart; the next he finds himself in "Town," an afterlife exclusively for thirteen-year-olds. As Boo works to acclimate himself to his new home, another boy from his hometown—Johnny—appears, seemingly a victim of the same school shooter. A social outcast back on Earth, Boo quickly finds the friendship and joy that he never knew in life, but as he and Johnny search for the identity of their mysterious murderer, possibly now a fellow resident of Town, they uncover a truth that will have profound repercussions for them both. Beautifully drawn and filled with colorful characters, Boo is a story about finding your place in the world, be it this one or the next.
Read an excerpt | Browse discussion resources
---
Bertie's Guide to Life and Mothers
by Alexander McCall Smith
"Sense and humor fuse absolutely." —The Scotsman
Alexander McCall Smith's 44 Scotland Street series chronicles life in a corner of Edinburgh brimming with wit and humor. Although each resident of 44 Scotland Street is uniquely loveable, Bertie, the remarkably precocious child readers have watched grow up, is undoubtedly the star of this series. In this latest installment, the long suffering Bertie, on the cusp of his seventh birthday party, has taken to dreaming about his eighteenth, a time when he will be able to avoid the indignity of unwanted girl attendees and the looming threat of a gender-neutral doll from his domineering mother, Irene.
Read an excerpt | Browse discussion resources
---
The Book of Unknown Americans
by Cristina Henríquez
"Gripping, memorable…. A novel that can both make you think and break your heart." —San Francisco Chronicle
Set in Redwood Apartments, a two-story cinderblock complex just off a highway in Delaware, The Book of Unknown Americans is the story of the Rivera family—relocated to the U.S. after their daughter, Maribel, suffers a life-changing accident—and the Toro family, both from Panama. When Maribel Rivera and Mayor Toro fall in love, it marks the beginning of a friendship between the two families, whose web of guilt and love and responsibility is at the novel's core. Suspenseful, wry, and immediate, rich in spirit and humanity, The Book of Unknown Americans is a work of rare force and originality.
Read an excerpt | Get the reader's guide