Cathy Haruf on Her Husband's Final Novel, Our Souls at Night: An Exclusive Q&A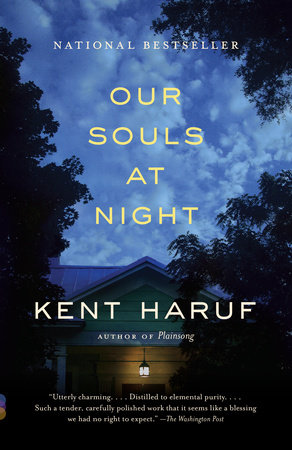 Kent Haruf's final novel, the national bestseller Our Souls at Night, is a quiet tale of love and second chances. Louis Waters and Addie Moore are the focus of this bittersweet yet inspiring story of a man and a woman who come together to wrestle with the events of their lives and their hopes for the future. In this exclusive Q&A with Cathy Haruf, Kent Haruf's wife, we ask her to talk about Kent's inspiration and how they worked collaboratively to bring each of his novels to life. Read on for a special book club discussion prompt from Cathy!
Reading Group Center: Did Kent have an idea or an outline for Our Souls at Night when he sat down to write it? Did the direction change once he started writing?
Cathy Haruf: In April of 2014, Kent was feeling restless, wanting something to do, wasn't in pain, was on oxygen 24/7. He decided to go to his writing shed and try writing a short story. He knew he was dying and figured he had to write something short. He came in at lunchtime and announced, "That's not going anywhere." The next day he said, "I'm going to write a book about us." I said "ok." So on May 1, 2014, he went to his shed and started writing.
He didn't tell me anything more about the story (he never shared his ideas with anyone before he wrote them—he would usually read me each chapter after that chapter was finished). He normally spent about six years writing a book. He told me he wasn't going to read anything to me until the manuscript was finished.
Kent came in from his shed on May 1, and he said with great astonishment, "I just wrote the first chapter of this novel."  It was so surprising to him because he was usually such a slow writer. Each day for the next month and a half, he wrote a draft of each chapter of the novel while wearing a stocking cap over his eyes, typing on an old Royal upright typewriter. (He wrote "blind" so he wouldn't be distracted by spelling, paragraphs, syntax, punctuation, etc.). He took that paper and scribbled all over it and typed it up again, double-spaced, wrote all over it, and then gave it to me to enter into the computer.
By the middle of September, after I typed it and printed it out several times so he could read through it and make any changes he wanted, he was ready to email it to Gary Fisketjon, his editor. (Kent had not told anyone he was writing, not even Gary.)
In his understated way, Kent sent the manuscript with this note: "Dear Gary, Here's a little surprise for you. Love, Kent."
RGC: Where did the inspiration for the main characters Addie Moore and Louis Waters come from? How much did Kent draw from his own life experiences to craft these characters?
CH: When Kent gave me the manuscript to enter into the computer, it was the first time I'd read it; I discovered that it was about a couple who talk all the time, which is what Kent and I spent our last twenty-three years doing (and we used to talk a lot when we were kids in high school, too). The prototypes for Addie Moore and Louis Waters were Kent and myself; a couple who are not about to give up their conversations even when it seems they must end. Kent was certainly a quieter person than I am, which shows up in the personalities of Louis and Addie.
Lying in bed, holding hands and talking about the happenings of the day and anything else that was on our minds—dying, friends, kids, my hospice work, his writing—this was Kent's favorite time of the day. So that was the set-up of the novel and then he took off with his ideas of what these characters would do.
Like Louis, Kent was a high school teacher for many years and did actually have his students memorize the poems mentioned in the book. He also spent a lot of time with our grandson, Henry, who was little at that time; working in the garden, showing him how to water, planting, and talking with him about all sorts of things.
RGC: The concept of family as not only a biological but also a social connection carries through much of Kent's work. Why do you think this was such a key theme in his writing?
CH: Kent was very interested in how people connected with each other. He was a very open person himself, and very welcoming to all kinds of people. It didn't matter whether a person was related by blood or by good feelings. The extended family of choice was very interesting to him, as shown in Plainsong. He lived his own life in this way, extending our family to include many many people, old and young, from a great variety of backgrounds and conditions.
RGC: What role did you play in the completion of Our Souls at Night? Did you give regular feedback on Kent's work throughout his career?
CH: I entered the manuscript in the computer and read it many times, checking for typos. I could feel comfortable asking him any technical questions. I didn't question him about his actual story, that was his. I could ask about a word choice, but was very diplomatic in the asking. Of course, Kent was extremely sensitive about his work. My first experience with this was with Plainsong. Kent had read a chapter to me and I said I really liked it and wanted to know more about that character. I meant this as a compliment but it sent him to bed for two days. After that, I learned what and how to say things to this tenderhearted man.
We worked together on the chronological timeline, making sure events were happening at logical times, and talked about the story itself when he asked for feedback. I did suggest that the end of the story have some hopefulness; that Addie wouldn't give up staying in touch with Louis.
We worked together on choosing the title. That was always an enjoyable undertaking. However, my main job was to put the changes into the computer every day so he could make any needed adjustments.
 RGC: What is the most memorable comment you or Kent ever received from one of his fans?
CH: When we were in Paris for the American Book Festival and Kent was being filmed for TV with his translator, a young Frenchman tapped me on the shoulder and pointed at Kent and said "rock star." He was so excited that Kent was there and those were his only words about it to me. It was very dear.
Kent, this quiet, understated man, really laughed when I told him about it.
RGC: What do you see as your husband's greatest legacy?
CH: For Kent, writing was his religion, and he created his characters out of compassion and love, even the "bad" ones. He wasn't afraid to look at the darker aspects of human nature, whether it was a mother who kicked her pregnant daughter out of the house, an uncle who abused his niece and nephew, a father who rejected his gay son, a controlling father who treated his children with cruelty, or a son who sabotaged his elderly mother's last chance at love.
Kent didn't judge these characters but saw them as acting from a place of woundedness, struggling in their own drama of being human. His stories were balanced out by characters who were living from their more positive selves—Maggie Jones in Plainsong; Rose Tyler, the social worker in Eventide, Sanders Roscoe in The Tie That Binds, Lorraine in Benediction, Louis and Addie in Our Souls at Night.
The meaning in Kent's stories came out when these characters interacted. He described these interactions with honesty and simplicity, without moralizing or apology and I believe that is why his books have touched so many readers. He gave a voice to the quiet people, the people of small towns and hard work.
For those people who knew Kent personally, he was a best friend. He listened to what others had to say—really listened—and asked them questions. And listened some more. I know he will be known for his great writing, of course, but most especially for being a good, kind man.
RGC: Imagine you're part of a book club discussing Our Souls at Night. What is a topic or question you'd like to pose to the group?
CH: The question I pose to members of book clubs is "Isn't the whole idea that Kent wrote about just brilliant? There are so many lonely older women and men out there by themselves watching TV every night who may just love having someone to spend that time with and maybe the whole night. What's the worst thing that can happen? You get your feelings hurt or you get embarrassed. Those things aren't going to kill you. And think if you did find a good person to enjoy your time with. Wow!"