Behind the Book: The Photos That Inspired Chance Developments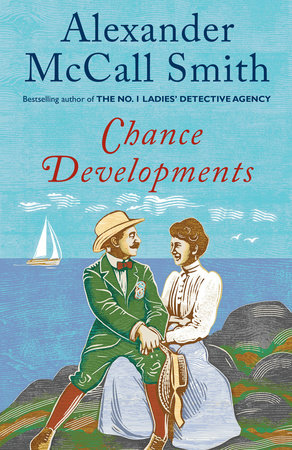 Inspired by vintage photographs, the five lyrical stories in Chance Developments capture the surprising intersections of love and friendship that alter life's journeys. Charming and poignant, they are a testament to the power of human connection, and brim with a grace and humor that could come only from the pen of Alexander McCall Smith.
Read on for the Author's Note that opens the collection. And as a special supplement, we've paired the photographs that inspired it with quotes from the stories. Enjoy!
Author's Note:
Some years ago I was invited by the distinguished American museum curator, Robert Flynn Johnson, to write an introduction to a book he was about to publish. This book was a collection of 'orphaned' photographs—old black and white photographs that had no clear provenance and featured unknown people in all sorts of situations. In that introduction I chose to create stories around some of these photographs—very short stories in that case, and most of them highly unlikely. I enjoyed the experience so much that I decided that one day I would do an entire book of photographically-inspired stories.
Recently I wrote a book about Edinburgh based on the magnificent collection of photographs held by the Royal Commission on the Ancient and Historical Monuments, now part of the wider conservation body, Historic Environment Scotland. I asked my editor for that book, Jamie Crawford, if he might find me a selection of black-and-white photographs of people from the past so that I could imagine the stories behind the images. He came up with an intriguing collection, and the result is this offering. We know nothing about the real people in these photographs—by the age of the prints none of them will still be alive; these stories imagine who they might have been and what their personal history was. The people in the stories, then, are not the same as the people in the photographs: rather, they are suggested by them. They are all love stories in one sense or another, because love lies at the heart of our experience of the world. They are also about friendship, love's cognate, and frequently both its prequel and sequel.
Love transforms the people in these stories, as it may transform any of us. In some cases it will not be reciprocated as fully as it might be, but if that happens we could do worse than to remember the advice of the poet, W.H. Auden, who tells us that 'If equal affection cannot be, then let the more loving one be me.' I have always thought that those lines can be read in such a way as somehow to express an entire philosophy of life, a guide to all of us on our journey.
—Alexander McCall Smith
---


From "Sister Flora's First Day of Freedom:"
They did their best to be generous to Sister Flora when she left the convent, but the dresses they gave her left something to be desired. A great deal, in fact, according to some. (p. 5)



From "Angels in Italy:"
We carry with us the clothes of childhood, don't we? We keep them on long after they have ceased to fit. (p. 59)



From "Dear Ventriloquist:"
Hold on—you're telling me that this fortune-teller in Kingston tells the Prime Minister of Canada what to do? (p. 139)



From "The Woman with the Beautiful Car:"
The man who waits for the right girl may find that the right girl has herself not been waiting. That's a thought—just a thought, but, like at least some thoughts, it happens to be true. (pp. 175–176)



From "He Wanted to Believe in Tenderness:"
You can forgive most things…. And if we don't forgive people, then how do we get on with life? You'll always be thinking of things that happened a long time ago. How can you get on with life if your mind is full of old stuff? (p. 213)