8 Engaging Reads to Feed Your Political Obsession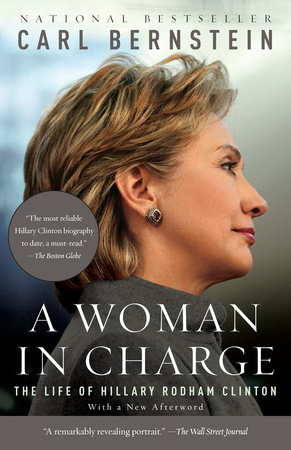 Have you been glued to your TV and computer screens lately, tracking each new development in the 2016 presidential election? Is your Twitter feed full of political commentary condensed into 140 characters or fewer? Are you one of those people who loves to engage in lively debate on topics like health care? If so, we have the reading list for you. From political portraits to riveting behind-the-scenes looks at our most powerful institutions, this list has something for every political junkie who can't get enough of this year's presidential race. 
A Woman in Charge by Carl Bernstein
"The most reliable Hillary Clinton biography to date, a must-read." —The Boston Globe
The nuanced, definitive biography of one of the most controversial and widely misunderstood figures of our time—the woman running a historic campaign as the 2016 Democratic presidential nominee, Hillary Rodham Clinton—draws on hundreds of interviews with colleagues and friends and the author's unique access to campaign records. Pulitzer Prize–winning journalist and bestselling author Carl Bernstein has given readers a book that enables us, at last, to address the questions Americans are insistently—even obsessively—asking: Who is she? What is her character? What is her political philosophy? And what can we expect from Hillary if we elect her president of the United States?
---
"Compelling. . . . Driven by the author's assured narrative voice, The Nine is as informative as it is fascinating, as insightful as it is readable." —The New York Times
In The Nine, acclaimed journalist Jeffrey Toobin takes us into the chambers of the most important—and secret—legal body in our country, the Supreme Court, revealing the complex dynamic among the nine people who decide the law of the land. An institution in a moment of transition, the Court now stands at a crucial point, with major issues such as abortion, civil rights, and church-state relations at stake. Based on exclusive interviews with the justices and with a keen sense of the Court's history and the trajectory of its future, Toobin creates in The Nine a riveting story of one of the most important forces in American life today.
---
"Superb. . . . It is hard to imagine a biography of Ronald Reagan that could be more thorough, evenhanded and insightful." —The Dallas Morning News
In his magisterial new biography, H. W. Brands brilliantly establishes Ronald Reagan as one of the two great presidents of the twentieth century, a true peer to Franklin Roosevelt. Employing archival sources not available to previous biographers and drawing on dozens of interviews with surviving members of Reagan's administration, Brands has crafted a richly detailed and fascinating narrative of the presidential years. Reagan is a storytelling triumph, an irresistible portrait of an underestimated politician whose pragmatic leadership and steadfast vision transformed the nation.
---
"Gripping. . . . For readers interested in the roots of the Islamic State and the evil genius of its godfather, there is no better book to begin with than Black Flags." —The New York Times
In a thrilling dramatic narrative, Pulitzer Prize–winning reporter Joby Warrick traces how the strain of militant Islam behind ISIS first arose in a remote Jordanian prison and spread with the unwitting aid of two American presidents. Drawing on unique high-level access to CIA and Jordanian sources, Warrick weaves gripping, moment-by-moment operational details with the perspectives of diplomats and spies, generals and heads of state. Black Flags is a brilliant and definitive history that reveals the long arc of today's most dangerous extremist threat.
---
The New Tsar by Steven Lee Myers
"[A] comprehensive new biography—the most informative and extensive so far in English." —The New York Times Book Review
In this gripping narrative of Putin's rise to power, Steven Lee Myers recounts Putin's origins—from his childhood of abject poverty in Leningrad to his ascent through the ranks of the KGB, to his eventual consolidation of rule in the Kremlin. The New Tsar is a staggering achievement, a deeply researched and essential biography of one of the most important and destabilizing world leaders in recent history, a man whose merciless rule has become inextricably bound to Russia's foreseeable future.
---
"Must reading for anyone interested in the CIA or American intelligence since World War II." —The Washington Post
With shocking revelations that made headlines in papers across the country, Pulitzer Prize winner Tim Weiner gets at the truth behind the CIA and uncovers why nearly every CIA director has left the agency in worse shape than when he began; and how these profound failures jeopardize our national security.
---
Lies, Incorporated by Ari Rabin-Havt
"Ari Rabin-Havt tells the truth, and that's something rare in Washington, D.C." —Sen. Harry Reid, U.S. Senate Democratic Leader
In today's post-truth political landscape, there is a carefully concealed but ever-growing industry of organized misinformation that exists to create and disseminate lies in the service of political agendas. Ari Rabin-Havt and Media Matters for America present a revelatory history of this industry—which they've dubbed Lies, Incorporated—and show how it has crippled legislative progress on issues including tobacco regulation, public health care, climate change, gun control, immigration, abortion, and same-sex marriage. Eye-opening and indispensable, Lies, Incorporated takes an unflinching look at the powerful network of politicians and special interest groups that have launched coordinated assaults on the truth to shape American politics.
---
Michelle Obama by Peter Slevin
"A standout. . . . Michelle Obama's story is an American classic. . . . Slevin combines access to her and her family and friends with a keen understanding of American politics and history." —USA Today
This is the inspiring story of a modern American icon, the first comprehensive account of the life and times of Michelle Obama. With disciplined reporting and a storyteller's eye for revealing detail, Peter Slevin follows Michelle to the White House from her working-class childhood on Chicago's largely segregated South Side. He illuminates her tribulations at Princeton University and Harvard Law School during the racially charged 1980s and the dilemmas she faced in Chicago while building a high-powered career, raising a family, and helping a young community organizer named Barack Obama become president of the United States. Michelle Obama: A Life is a fresh and compelling view of a woman of unique achievement and purpose.