7 Spring Break Reads to Beat the End-of-Winter Blues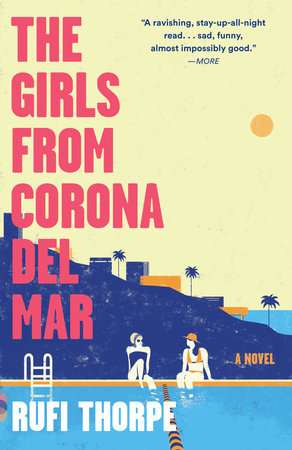 Every year around this time, people begin to grow weary of the endless cold temperatures and gray skies. Many of us who live in colder regions begin to crave sun and sand, and there's no better time to get away from it all than spring break. Everyone knows that an essential element of any tropical vacation is the perfect seaside read, so we've compiled a list of beachy, entertaining books for you to bring on your next trip.
And even if you don't have a vacation planned, we've got you covered! These reads will transport you to warm locales from the comfort of your own home.
The Girls from Corona del Mar by Rufi Thorpe
"A ravishing, stay-up-all-night-reading kind of novel—a sad, funny, almost impossibly good debut." —MORE 
Best friends Mia and Lorrie Ann couldn't be more different; where Mia is reckless and proudly hard-hearted, Lorrie Ann is kind, serenely beautiful, and seemingly immune to the kind of teenage mistakes that Mia can't help but make. But within a few years, fortunes change. Suddenly, Mia is free to grow up and adventure, falling in and out of love while Lorrie Ann is weighed down by responsibilities at home. And when good, nice, brave Lorrie Ann stops being so good, Mia must question how well she ever really knew her best friend in the first place.
Read an excerpt | Get the reader's guide
---
The Forever Girl by Alexander McCall Smith
"Gorgeously romantic. . . . McCall Smith's writing has tons of charm and kindly wisdom." —The Times (London)
Amanda and her daughter, Clover, live in a close-knit community of expats on Grand Cayman Island, an idyllic place to all appearances. But the comfortable island life can become stifling in hard times. As Clover allows her heart to chart her life's course, she falls for her first love, and Amanda realizes that she has fallen out of love with Clover's father, and that her carefully mapped-out future is actually unknown territory. Through the years, mother and daughter try to navigate their chosen paths, as they are each torn between the dreams they cherish and the reality they face.
Read an excerpt | Get the reader's guide
---
Sag Harbor by Colson Whitehead
"Warm and funny, carefully observed, and beautifully written. . . . Whitehead seems to be having the time of his life." —The Boston Globe
Benji Cooper is one of the few black students at an elite prep school in Manhattan. But every summer, Benji escapes to the Hamptons, to Sag Harbor, where a small community of African American professionals have built a world of their own. The summer of '85 won't be without its usual trials and tribulations, of course. There will be complicated new handshakes to fumble through and state-of-the-art profanity to master. Benji will be challenged by contests big and small, by his misshapen haircut (which seems to have a will of its own), by the New Coke Tragedy, and by his secret Lite FM addiction. But maybe, just maybe, this summer might be one for the ages.
Read an excerpt | Get the reader's guide
---
"Absolutely irresistible. . . . A suspenseful, deeply haunted book. . . . A marvel." —The New York Times
Thirteen-year-old Ava Bigtree has lived her entire life at Swamplandia!, her family's island home and gator-wrestling theme park in the Florida Everglades. But when illness fells Ava's mother, the park's indomitable headliner, the family is plunged into chaos; her father withdraws, her sister falls in love with a spooky character known as the Dredgeman, and her brilliant big brother, Kiwi, defects to a rival park called The World of Darkness. As Ava sets out on a mission through the magical swamps to save them all, we are drawn into a lush and bravely imagined debut novel that takes us to the shimmering edge of reality.
Read an excerpt | Get the reader's guide
---
"Sullivan beguiles us again. . . . Crackling-smart." —Elle 
For the Kellehers, Maine is a place where children run in packs, showers are taken outdoors, and old Irish songs are sung around a piano. As three generations of Kelleher women arrive at the family's beach house, each brings her own hopes and fears. Maggie is thirty-two and pregnant, waiting for the perfect moment to tell her imperfect boyfriend the news; Ann Marie, a Kelleher by marriage, is channeling her domestic frustration into a dollhouse obsession and an ill-advised crush; Kathleen, the black sheep, never wanted to set foot in the cottage again; and Alice, the matriarch at the center of it all, would trade every floorboard for a chance to undo the events of one night, long ago.
Read an excerpt | Get the reader's guide
---
The Lemon Grove by Helen Walsh
"A sultry, sexy romp through a sea of simmering resentments, moral dilemmas, and questions about loyalty and forgiveness." —Glamour
Jenn and Greg are enjoying the last week of their annual summer holiday in Majorca, off the coast of southern Spain. Their days are languorous, the time passing by in a haze of Rioja-soaked lunches, hours at the beach, and lazy afternoon sex in their beautiful villa. It is the perfect summer idyll . . . until Greg's teenage daughter—Jenn's stepdaughter—Emma, arrives with her new boyfriend, Nathan, in tow. The next seven days are a brilliantly paced fever dream of attraction between Jenn and the reckless yet mesmerizing Nathan.
---
Veronica Mars: Mr. Kiss and Tell by Rob Thomas and Jennifer Graham
The Neptune Grand has always been the seaside town's ritziest hotel, despite the shady dealings and high-profile scandals that seem to follow its elite guests. When a woman claims that she was brutally assaulted in one of its rooms and left for dead by a staff member, the owners know that they have a potential powder keg on their hands. They turn to Veronica to disprove—or prove—the woman's story.
The case is a complicated mix of hard facts, mysterious occurrences, and uncooperative witnesses, and Veronica has a convoluted mess on her hands. As she works to fill in the missing pieces, it becomes clear that someone is lying—but who? And why?