A Q&A with Chris Bohjalian for the 20th Anniversary of Midwives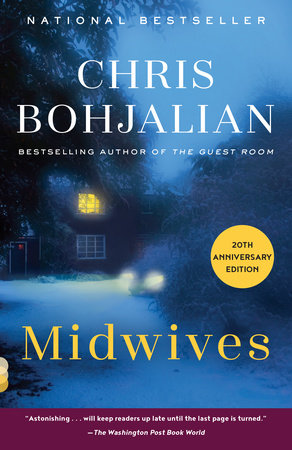 In the twenty years since Midwives was first published, Chris Bohjalian has written several bestsellers that we've loved discussing in our book clubs. But there's something about this novel, a number one New York Times bestseller and selection of Oprah's Book Club, that has stuck with us long since we first read it. Maybe it's the tightly paced story, maybe it's the idyllic Vermont setting, or maybe it's the fully realized female characters, but there's certainly something that has us returning to this book time and time again. It is a compulsively readable novel that explores questions of human responsibility that are as fundamental to our society now as they were when the book was originally published.
 To celebrate the 20th anniversary, we asked Chris a few questions about his contemporary classic. Read on to find out how the book was first received and how Chris's writing process has changed over time.
Reading Group Center: Twenty years have passed since Midwives was first published, but it still feels relevant. Is there anything you would want to update or change if you were writing it today?
Chris Bohjalian: The midwife who set me on the path to write the book—telling me about her work at a dinner party one summer night and then allowing me to interview her for hours on end—is a lovely, brilliant, kind woman named Carol Gibson Warnock. She's also very funny. When I began writing the novel, I never thought it would be a courtroom drama; I thought it would be a gently comic, coming-of-age novel narrated by a young woman raised by a hippie midwife in rural Vermont.
But then my mother was diagnosed with cancer and it was clear she was going to die, and the novel changed. It morphed into a far more complex and morally ambiguous story.
I would end up deleting many of those early, lighthearted scenes about the "peace, love, and tie-dye" culture of Vermont in the late 1960s and 1970s, but a few still remain.
The reality is that the book is set two generations ago now.  It's set in a particular moment in time, that era when Carol Gibson Warnock and her peers were part of a movement that had its roots in the counterculture and back-to-the-land movements in Vermont.
But its themes are pretty universal and obviously relevant today.  We were all born and we all will die.  In between, we all aspire to do what we love in this world and—most of us, anyway—to minimize the pain we cause others.  Think of the novel's epigraph: "We are each of us responsible for the evil we may have prevented." (James Martineau)
And so while there may be scenes that I would approach differently now, I really wouldn't update or change anything of consequence.  I love the way it brings to life that era: it was at once so hopeful and so innocent.  And I think that's why Sibyl's betrayal by the medical and legal professions in the novel is so devastating.
RGC:  What was early reaction to Midwives like? Has it changed over time?
CB: Let's start with the midwives, those remarkable individuals who work with moms (and dads) and catch babies.
When the novel was first published, there were a lot of midwives who thought I was the antichrist. The Hollywood flyover of the novel was this: a midwife performs a cesarean section in a homebirth that goes tragically wrong, and the mother dies. The midwife is tried for manslaughter. And . . . oh by the way, the daughter becomes an OB/GYN.
I remember at one of my events in downtown Boston, there were midwives protesting the book. There were midwifery conferences in which midwifery activists discouraged midwives from buying the book, checking the book out of the library, or even talking about the book. They just wanted it to disappear.
But the wonderful thing about midwives is this: when a midwife is concerned about something, she asks questions. When she is very concerned, she asks a lot of questions. I had so many wonderful exchanges with midwives when the book was originally published, even with those midwives who were very troubled by it.
Eventually, as more and more midwives read the novel, they begin to like it very, very much. They understood that I had never meant to write a book about an incompetent midwife; my intention all along was to write a novel about an immensely competent midwife who is beleaguered by a medical and judicial system beyond her ken.
How supportive of the book did they become in the end? A year and a half after the novel was published, when Oprah Winfrey picked it for her book club, the Midwives Alliance of North America actually linked their site to the novel's page at Amazon.
I also was thrilled by the way general readers gravitated quickly to the story, and how many readers were sharing with me their "amazing" birth stories from the very beginning. I felt like a talk show host at many of the events on the hardcover and paperback book tours, because woman after woman would stand up during the Q&A and volunteer some powerful or poignant or outrageously funny moment from when she was in labor.
And Midwives was my first national bestseller. And then, months after it had fallen off the bestseller lists, a year and a half after it was published, Oprah Winfrey would select it for her book club and return it to the bestseller lists—where it would remain for a long time.
RGC:  What is your favorite question you've been asked about Midwives?
CB: Here it is. I love this question because it's actually a powerful compliment:
"I thought you were a female author. Chris, after all, is an androgynous name. How do you write so convincingly as a woman?"
Midwives is the first time I wrote across gender—the first time I had a female narrator. And I loved the experience.  Obviously I've written across gender a lot since then, with first person female narrators in Trans-Sister Radio; Secrets of Eden; The Sandcastle Girls; The Guest Room; and Close Your Eyes, Hold Hands.
There are always very specific reasons why I choose to write across gender, beginning with the character arc I envision and the premise of the story.  For instance, in The Sandcastle Girls, it seemed to me that a woman would be far more likely than a man to risk her emotional equilibrium and everything she knows about her family history because of one photograph.  In The Guest Room, I knew the story would be far more emotionally wrenching if there were a narrator who actually was a sex slave and a victim of human trafficking.
And it seemed to me early on while I was thinking about Midwives that a novel about the literal and metaphoric place of birth in our culture had to be narrated by a woman. This felt to me like an imperative that was critical from a moral and storytelling perspective.
It also resulted in one of my favorite reviews of all time: "An added benefit of the novel is the candor and honesty with which Chris Bohjalian writes about her experience in labor, and what it must have been like for her to give birth."
RGC:  Many of your books have been set in Vermont, where you live. What is it about this state that makes it such a great setting for so many stories?
CB: I love Vermont. And I love writing about Vermont.
Vermont is a microcosm for so many issues confronting all of America: the environment versus development, how we welcome (or fail to welcome) refugees, traditional versus alternative medicine.
And fiction is about conflict and human transformation, which means Vermont is a great laboratory. Moreover, we're small, and so it's easy to research these stories. Everyone and everything is accessible. Winding up in the Green Mountains has proven to be one of the great literary blessings of my life.
Writers talk with an agonizing amount of hubris about "finding our voice," but it was without question that I found mine in Vermont.
RGC: Your novels often feature incredibly strong female characters. Are there women in your life who inspire you?
CB: Well, certainly I depend on my editors, who've been female most of my career. From 1995 to 2010, my editor was the incomparable Shaye Areheart. She was the editor on Midwives. Since 2010 I have had the equally remarkable Jenny Jackson.
But I also depend on my wife, Victoria Blewer, and our amazing daughter, Grace Experience.  Both are brilliant and help in different ways.  My wife is unflinchingly honest.  As she once said to me about a criticism that apparently I wasn't taking very well, "Wouldn't you rather hear it from me than the New York Times?"  And my daughter, who is a young actor, has become an equally astute reader of my work.  I will never forget how helpful she was when I was creating Emily Shepard in Close Your Eyes, Hold Hands.  She also said one of the most insightful things anyone has ever said to me about my work: "Dad, take this as a compliment, because I mean it that way. But I think your sweet spot as a writer is seriously messed-up young women."
It's true.
And Midwives certainly has two strong female characters: Sibyl and her daughter, Connie. (Also, I love the way that Sissy Spacek and Allison Pill brought them to life in the film. Those two women gave spectacular performances. Sissy was a force of nature even then, but the work Allison has done in the last fifteen years has been breathtaking in its scope. I revere that pair.)
RGC: What was your writing process like for Midwives? Is it similar to your writing process now?
CB: The essentials of my writing process remain unchanged. I am at my desk in my library before six in the morning, and I really don't leave my library until lunchtime.  The goal is to write 1000 words. I don't always write that many, but as my friend Jodi Picoult once said, "You can edit a bad page. You can't edit a blank page."
But some things have changed. Instead of coffee, I now start the day with an 8.4 ounce can of sugarfree Red Bull. I still skim the dictionary for interesting words—noctivigant, luminescent, phantasmagoric—but now I also watch movie trailers. Those impeccably produced two minute previews of movies instantly catapult me into the appropriate emotion for whatever scene I'm hoping to write that morning.
I print out every fifty or so pages I write at the computer and edit those pages by hand with a fountain pen.  I use a fountain pen because they can be messy and using one forces me to write more slowly and thus think more carefully.  It compels me to find the right synonym for red: crimson, burgundy, plum.
And I still know that when I have writer's block, it means that I haven't done my homework: I need to roll up my sleeves and do some research to really understand what's going on.  Then I can return to my desk and my characters.
RGC: Imagine you're part of a book club discussing Midwives. What is a passage you would want to discuss with the group and why? 
CB: Well, I don't have to imagine that. I have joined hundreds and hundreds of book groups over the years via Skype or speakerphone or in person to discuss Midwives.  Also? I discussed the novel with the biggest book group in the world: Oprah's.
And the passages that readers want to discuss must often are two: the moment in the book when Sibyl performs the bedroom cesarean.  And the last page of the novel.  I am happy to discuss the cesarean and the situation that necessitated it.  But the last page?  I always plead the Fifth with book groups when that comes up, and allow readers to interpret that moment for themselves.