A Playlist for The Noise of Time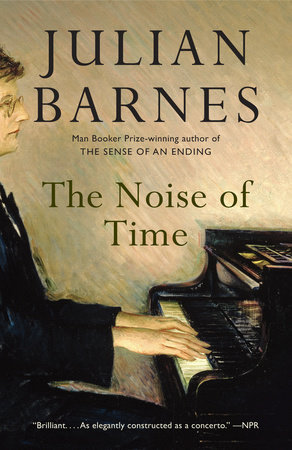 Here at the Reading Group Center, we believe that books and music go together like tea and biscuits, and very few novels have lent themselves more readily to musical accompaniment than Man Booker prize–winning author Julian Barnes's latest novel, The Noise of Time.
The book follows Russian composer Dmitri Shostakovich as he copes with the dangers of being an artist in the Soviet Union during the mid- to late twentieth century. Faced with possible exile to Siberia or even death, Shostakovich is forced to compromise his integrity and compose pieces that will please Stalin and his Communist machine, until he eventually becomes an unwilling mouthpiece for the regime.
The Noise of Time brilliantly explores the meaning of art and its place in society through the lens of Shostakovich's distinguished career. As you make your way through Barnes's first book since his award-winning novel The Sense of an Ending, we hope you will enjoy our suggested musical accompaniment. The playlist below includes compositions not only from Shostakovich but also from some of his contemporaries, and it will transport you back in time to the Soviet Union as Shostakovich knew it.