Books to Devour in a Single Poolside Afternoon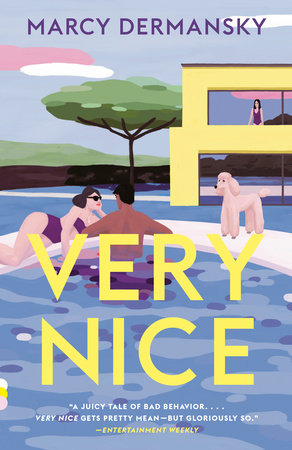 You're sitting by the pool, attempting to get the last bit of summer sun, and all you want is a book that you simply can't put down. A lot of things can make a book compulsively readable—a shocking true story, hilarious jokes, a compelling mystery—but the one requirement is that you don't want to do anything else until you've reached the end. We feel the same way about our summer reading, so we've compiled a list of books you're sure to finish in one sitting.
Very Nice by Marcy Dermansky
"This is the buzzy, breezy summer read you've been craving all summer." —Bustle
Rachel Klein never meant to kiss her creative writing professor, but with his long eyelashes, his silky hair, and the sad, beautiful life he laid bare on Twitter, she does, and the kiss is very nice. Zahid Azzam never planned to become a houseguest in his student's sprawling Connecticut home, but with the sparkling swimming pool, the endless supply of Whole Foods strawberries, and Rachel's beautiful mother, he does, and the home is very nice. Becca Klein never thought she'd have a love affair so soon after her divorce, but when her daughter's professor walks into her home, bringing with him an apricot standard poodle named Princess, she does, and the affair is . . . a very bad idea.
Zigzagging between the rarefied circles of Manhattan investment banking, the achingly self-serious MFA programs of the Midwest, and the private bedrooms of Connecticut, Very Nice is an audacious, addictive, and wickedly smart take on the way we live now. These characters spend so much time by the pool that you'll feel like you're sitting beside one yourself, even if the closest you come is wearing your swimsuit in the living room.
Read an excerpt | Buy the book
---
Crazy Rich Asians by Kevin Kwan
"This 48-karat beach read is crazy fun." —Entertainment Weekly
This story will be heading to a theater near you very soon, so there's no better time to pick up this "wickedly delectable" (The New York Times) read than right now. The novel follows New Yorker Rachel Chu as she agrees to spend the summer in Singapore with her boyfriend, Nicholas Young, who turns out to be the country's most eligible wealthy bachelor. As you can imagine, Rachel's in for a wild ride, and we promise that you'll love every minute of it.
Read an excerpt | Get the reader's guide | Buy the book
---
The Secret History of Wonder Woman by Jill Lepore
"Relates a tale so improbable, so juicy, it'll have you saying, 'Merciful Minerva!'" —Etelka Lehoczky, NPR
You saw Gal Gadot totally slay in Wonder Woman, but how much do you really know about this iconic superhero? Harvard historian and New Yorker staff writer Jill Lepore has uncovered an astonishing trove of documents about everyone's favorite invisible jet owner, including the never-before-seen private papers of William Moulton Marston, Wonder Woman's creator. The result of Lepore's reseach is a riveting work of historical detection revealing that the origin of Wonder Woman hides within it a fascinating family story—and a crucial history of twentieth-century feminism.
Read an excerpt | Buy the book
---
The Winter People by Jennifer McMahon
"One of the year's most chilling novels. . . . Enthralling."—The Miami Herald
You might not think of a book with "winter" in the title as an ideal beach read, but trust us: you will not put this book down until you read the final page. It's a story of the unbreakable bond between two mother-daughter pairs living in the same farmhouse one hundred years apart. At turns haunting and intriguing, Jennifer McMahon's trademark spookiness—with a twist of paranormal activity—is sure to satisfy.
Read an excerpt | Get the reader's guide | Buy the book
---
Oryx and Crake by Margaret Atwood
"Majestic. . . . Keeps us on the edges of our seats." —The Washington Post
So you loved binge watching The Handmaid's Tale and are ready to dive into the wonderful world of Margaret Atwood. Might we suggest Oryx and Crake, the first book in her MaddAddam trilogy? Set in the not-too-distant future, Atwood once again imagines an unrecognizable (but eerily possible) world. The story is parceled out piece by piece, and we promise you'll want to dive right into the second book in the trilogy, The Year of the Flood, as soon as you finish.
Read an excerpt | Get the reader's guide | Buy the book
---
The Girls from Corona Del Mar by Rufi Thorpe
"A ravishing, stay-up-all-night reading kind of novel—a sad, funny, almost impossibly good debut." —MORE
One of our favorite novel topics is the complex friendships women form with other women, and the relationship in Rufi Thorpe's The Girls from Corona Del Mar is among the best. When they meet, best friends Mia and Lorrie Ann are sure their lives are going to go a certain way. But as years pass, entirely different paths appear for the two friends, leading Mia to wonder how much she really ever knew Lorrie Ann. It's a heartbreaking and heartwarming read—one you'll want to discuss with your bestie right away.
Read an excerpt | Get the reader's guide | Buy the book