Fascinating Fictional Protagonists Based on Real People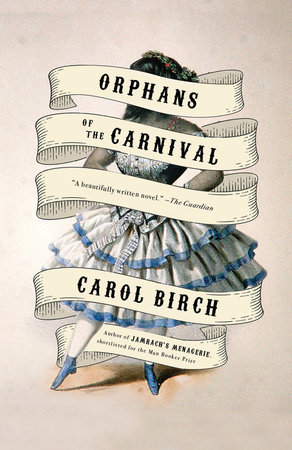 Here at the Reading Group Center, we know that truth is often stranger than fiction. Real people and scenarios can give rise to remarkable stories, as is evidenced by the collection of titles below. Inspired by Carol Birch's latest book, Orphans at the Carnival, which is based on the life of "monkey woman" and sideshow performer Julia Pastrana, we compiled a list of novels that reimagine the lives of real people. While these are fictional tales, the lives that shaped them were anything but, and any one of them would be an excellent choice for your reading group's next selection. 
Orphans of the Carnival by Carol Birch
"A beautifully written novel." —The Guardian
Pronounced by the most eminent physician of the day to be "a true hybrid wherein the nature of woman presides over that of the brute," Julia Pastrana stood apart from the other carnival acts. She was fluent in English, French, and Spanish, an accomplished musician with an exquisite singing voice, equally at ease riding horseback and turning pirouettes—but all anyone noticed was her utterly unusual face.
Beneath the flashy lights and thunderous applause lies a bright, compassionate young woman who only wants people to see beyond her hairy visage—and perhaps, the chance for love. Then Julia meets Theodore Lent, a boyishly charming showman who catapults her onto the global stage. As they travel the world the two fall into an easy intimacy, but the question of whether Theo truly cares for Julia or if his management is just a gentler form of exploitation lingers heavily with every kind word and soft embrace.
Stunningly written and deeply compelling, Orphans of the Carnival is a haunting examination of how we define ourselves and, ultimately, of what it means to be human.
Read an excerpt | Get the reader's guide
---
"Coelho, whose books have sold more than two hundred million copies worldwide, has taken the Mata Hari story and fashioned it into a short dynamo of a novel." —Los Angeles Times
When Mata Hari arrived in Paris she was penniless. Within months she was the most celebrated woman in the city. As a dancer, she shocked and delighted audiences; as a courtesan, she bewitched the era's richest and most powerful men. But as paranoia consumed a country at war, Mata Hari's lifestyle brought her under suspicion. In 1917, she was arrested in her hotel room on the Champs-Élysées and accused of espionage.
Told in Mata Hari's voice through her final letter, The Spy is the unforgettable story of a woman who dared to defy convention and who paid the ultimate price.
Read an excerpt | Get the reader's guide
---
The Moor's Account by Laila Lalami
"An exciting tale of wild hopes, divided loyalties, and highly precarious fortunes." —The New Yorker
In these pages, Laila Lalami brings us the imagined memoirs of the first black explorer of America: Mustafa al-Zamori, called Estebanico. The slave of a Spanish conquistador, Estebanico sails for the Americas with his master, Dorantes, as part of a danger-laden expedition to Florida. Within a year, Estebanico is one of only four crew members to survive.
As he journeys across America with his Spanish companions, the Old World roles of slave and master fall away, and Estebanico remakes himself as an equal, a healer, and a remarkable storyteller. His tale illuminates the ways in which our narratives can transmigrate into history—and how storytelling can offer a chance at redemption and survival.
Read an excerpt | Get the reader's guide
---
The Daring Ladies of Lowell by Kate Alcott
"A suspenseful, compelling tale of courageous young women fighting for justice." —Jennifer Chiaverini, author of Mrs. Lincoln's Dressmaker
Eager to escape life on her family's farm, Alice Barrow moves to Lowell in 1832 and throws herself into the hard work demanded of "the mill girls."  The hours are long and the conditions are bad, but Alice soon finds a true friend in Lovey Cornell, a saucy, strong-willed girl who is outspoken about the dangers they face in the factories . . . and about Alice opening her heart to a blossoming relationship with Samuel Fiske, the handsome and sympathetic son of the mill's owner.
But when Lovey is found dead under suspicious circumstances, a sensational trial brings the workers' unrest to a boiling point, leaving Alice torn between finding justice for her friend and her growing passion for the man with whom she had no business falling in love.
Read an excerpt | Get the reader's guide
---
Arthur & George by Julian Barnes
"Extraordinary. . . . First rate. . . . A cracking good yarn." —The New York Times Book Review
As boys, George, the son of a Midlands vicar, and Arthur, living in shabby genteel Edinburgh, find themselves in a vast and complex world at the heart of the British Empire. Years later—while one is struggling with his identity in a world hostile to his ancestry, the other is creating the world's most famous detective while in love with a woman who is not his wife—their fates become inextricably connected.
In Arthur & George, Julian Barnes explores the grand tapestry of late-Victorian Britain to create his most intriguing and engrossing novel yet.
Read an excerpt | Get the reader's guide
---
Enchanted Islands by Allison Amend
"An endearing chronicle of female friendship and evolution in the early twentieth century."  —The New York Times Book Review
Born to immigrant parents in Minnesota just before the turn of the century, Frances Frankowski grew up coveting the life of her best friend, Rosalie Mendel. And yet decades later when the women reconnect in San Francisco, their lives have diverged. Rosalie is a housewife and mother, while Frances works for the Office of Naval Intelligence and has just been given a top-secret assignment: Marry handsome spy Ainslie Conway and move to the Galápagos Islands to investigate the Germans living there in the build-up to World War II.
Amid active volcanoes, forbidding wildlife and flora, and unfriendly neighbors, Ainslie and Frances carve out a life for themselves. But the secrets they harbor—from their friends, from their enemies, and even from each other—may be their undoing.
Read an excerpt | Get the reader's guide
---
"Brilliant. . . . Gold's dexterous voice can swing from the exuberant melodrama of silent film to the terror of doomed soldiers to the quiet despair of the world's most beloved man." —The Washington Post
A quintessentially American epic, Sunnyside stars the one and only Little Tramp, Charlie Chaplin.  It's 1916 and, after an extraordinary mass delusion where Chaplin is spotted in more than eight hundred places simultaneously, his fame is at its peak but his inspiration is at a low.  As he struggles to find a film project as worthy as himself, we are introduced to a dazzling cast of characters that take us from the battlefields of France to the Russian Revolution and from the budding glamour of Hollywood to madcap Wild West shows.  The result is a spellbinding novel about dreams, ambition, and the birth of modern America.