Armchair Adventurer: Exploring Maine with The Stars Are Fire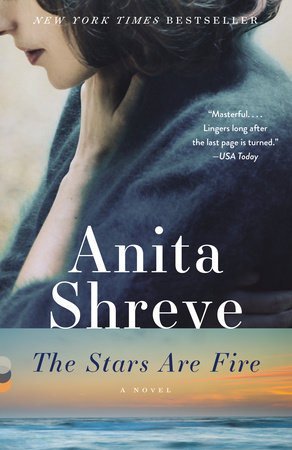 In her latest national bestseller The Stars Are Fire, Anita Shreve tells the extraordinary story of Grace Holland, a young mother whose life is thrown into turmoil when everything she knows literally goes up in smoke. Set in the late 1940s, during a time when the world was still grappling with the far-reaching impact of World War II, The Stars Are Fire is based on the true story of the largest fire in Maine's history.
Shreve, a bestselling author with eighteen novels under her belt, does an incredible job of evoking a specific time and place. While following Grace on her journey, we could practically smell the salt air and hear the gentle lapping of waves on the beach. In this edition of Armchair Adventurer, we explore the many charms and attractions that Maine has to offer. Whether or not you actually plan a vacation there, we hope this imaginary journey through the state that inspired The Stars Are Fire helps you and your reading group appreciate the story all the more.
There's really no shortage of things to do and sights to see while visiting the northernmost state in the contiguous United States. It would be difficult to cover them all in one trip, so with the help of Maine's Office of Tourism website we've come up with a few highlights to help focus your imagination.
National & State Parks
Maine is an outdoorsman's paradise just waiting to be discovered. With over half a million acres of national and state forests, the hiking, camping, and fishing possibilities are endless. We recommend a visit to Baxter State Park, which offers you the chance to climb the state's highest mountain, Mount Katahdin. Another not-to-be-missed hike is Cadillac Mountain in Acadia National Park. Wake up early and race up the mountain in the dark to be one of the first people in the country to see the sunrise.
Maine Art Museum Trail
For the art enthusiasts out there, we recommend planning your trip around The Maine Art Museum Trail, which consists of nine museums and around 73,000 works of art. Visit the website for a recommended route that will allow you to see all nine.
Historic Lighthouses
Maine is home to over sixty historic lighthouses along the coast. From Portland Head Light in Cape Elizabeth, Maine's oldest lighthouse, to the Pemaquid Point Light, which is featured on the official Maine state quarter, there is plenty to see if you decide to plan your trip around these diverse and scenic structures.
Scenic Byways
If you're more the type to hit the road and make stops along the way, check out Maine's four National Scenic Byways to make the drive even more enjoyable. While you're at it, make sure to plan a day at Old Orchard Beach, a family-friendly attraction, or arrange a day out on the water to go whale-watching.
Maine Beer Trail
Finally, for those of you who prefer to immerse yourselves in the local flavor of a place, check out Maine's Beer Trail to discover this state's wealth of microbreweries. While you're at it, you're sure to find plenty of delicious eateries along the way. Whether you choose to stop at one of Bar Harbor's farm-to-table restaurants or one of Portland's gastropubs, don't forget to order some Maine lobster!
We hope this guide to Maine will be of interest to your reading group as you discuss The Stars Are Fire—perhaps it will inspire you to plan a trip!