Celebrating Richard Russo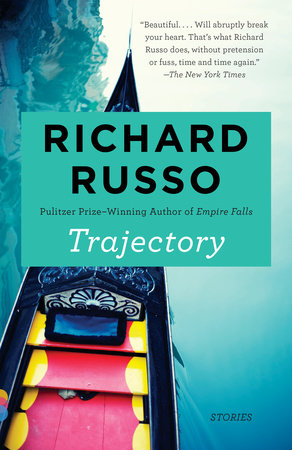 Richard Russo, "one of the best novelists around" according to The New York Times Book Review, won the Pulitzer Prize for his fifth book, Empire Falls, in 2002. The national bestseller was turned into a mini-series by HBO starting Paul Newman, Helen Hunt, and Ed Harris. Since then he's published another seven books. Famous for his small-town settings and relatable characters, Russo is a master of fiction, memoir, and the essay—and he can make you laugh out loud. To celebrate the paperback publication of Trajectory, his latest collection of short stories, we've put together a list of our favorite must-reads from this wonderfully prolific author. You and your book group are sure to find something to enjoy!
Trajectory
"Has the engaging quality of tales told by a friend, over drinks, about a person we know in common." —The New York Times Book Review
The characters in these four expansive stories, departures from the blue-collar denizens that populate so many of Richard Russo's novels, are bound together by parallel moments of reckoning with their pasts. In "Horseman," a young professor confronts an undergraduate plagiarist—as well as her own regrets. In "Intervention," a Realtor facing a serious medical prognosis finds himself in his late father's shadow. "Voice" gives us a semiretired academic who is conned by his estranged brother into joining a group tour of the Venice Biennale. And "Milton and Marcus" takes us into a lapsed novelist's attempt to rekindle his screenwriting career, which depends wholly, at a crucial moment, on two Hollywood icons (one living, one dead). Shot through with Russo's inimitable humor, wisdom, and surprise, Trajectory is the work of a masterful writer continuing to discover new heights.
Read an excerpt | Get the reader's guide | Buy the book
---
"Russo writes with a warm, vibrant humanity. . . . A stirring mix of poignancy, drama and comedy." —The Washington Post
Miles Roby has been slinging burgers at the Empire Grill for twenty years, a job that cost him his college education and much of his self-respect. What keeps him there? It could be his bright, sensitive daughter, Tick, who needs all his help with surviving the local high school. Or maybe it's Janine, Miles's soon-to-be ex-wife, who's taken up with a noxiously vain health-club proprietor. Or perhaps it's the imperious Francine Whiting, who owns everything in town–and seems to believe that "everything" includes Miles himself. In Empire Falls, Richard Russo delves deep into the blue-collar heart of America in a work that overflows with hilarity, heartache, and grace.
Read an excerpt | Get the reader's guide | Buy the book
---
"Straightforward and engaging from the first page. . . .  Mr. Russo makes writing short stories seem effortless." —The Wall Street Journal
In this irresistible debut collection of short stories, Richard Russo writes with the same bittersweet wit, deep knowledge of human nature, and spellbinding narrative gifts that distinguish his bestselling novels. His themes are the imperfect bargains of marriage; the discoveries and disillusionments of childhood; the unwinnable battles men and women insist on fighting with the past.
A cynical Hollywood moviemaker confronts his dead wife's lover and abruptly realizes the depth of his own passion. As his parents' marriage disintegrates, a precocious fifth grader distracts himself with meditations on baseball, spaghetti, and his place in the universe. And in the title story, an elderly nun enters a college creative-writing class and wreaks havoc with its tidy notions of fact and fiction. The Whore's Child is further proof that Russo is one of the finest writers we have, unsparingly truthful yet hugely compassionate and capable of creating characters so real that they seem to step off the page.
Read an excerpt | Get the reader's guide | Buy the book
---
"One of the most honest, moving American memoirs in years. . . . Russo's intellectual and emotional honesty are remarkable." —NPR Books
Richard Russo turns to memoir in this hilarious and bittersweet account of his lifelong bond with his high-strung, spirited mother—and the small town she spent her life trying to escape. Anyone familiar with Russo's novels will recognize Gloversville, once famous for producing nine out of ten dress gloves in the United States. By the time Rick was born, ladies had stopped wearing gloves and Gloversville was on its way out. Jean Russo instilled in her son her dream of a better life elsewhere, a dream that prompted her to follow him across the country when he went to college. Their adventures and tribulations on that road trip were a preview of the hold his mother would continue to have on him as she kept trying desperately to change her life. Recounted with a clear-eyed mix of regret, nostalgia, and love, Elsewhere is a stirring tribute to the tenacious grip of the past.
Read an excerpt | Get the reader's guide | Buy the book
---
Browse all of Richard Russo's books here