Meet the Amazing Telemachus Family of Spoonbenders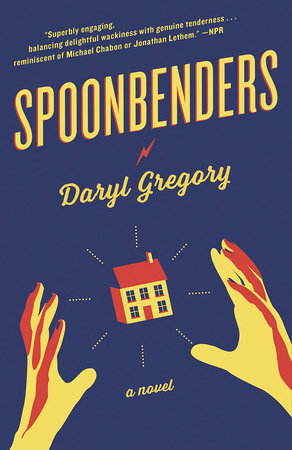 There's something about a dysfunctional family that makes for great reading. Throw in a touch of magic, the CIA, and the Mafia, and you've got a recipe for one of the wackiest, most entertaining books of the summer. Described as "rollicking and quick-paced" by The New York Times Book Review, Daryl Gregory's novel Spoonbenders follows the once-Amazing Telemachus Family, an eclectic group of multigenerational psychics both blessed and burdened by their abilities. When the CIA, the local Mafia, and a skeptic hell-bent on discrediting them come calling, the family must come together to prove just how amazing they are.
Spoonbenders is a hilarious and tender novel about the invisible ties that bind family together, and it's packed with enough action and one-of-a-kind characters to provoke lively discussion in your reading group. As an introduction to these unforgettable personalities, we've assembled character cards that will clue you in to each family member's spcial abilities and background. We know that once you get to know them you'll find the Telemachus' just as irresistible as we did.