John Banville Continues a Beloved Classic in Mrs. Osmond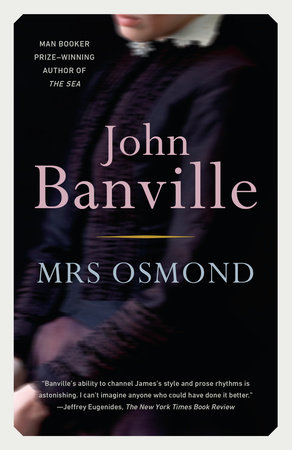 In Mrs. Osmond, Man Booker Prize–winning author John Banville deliver an audacious sequel to Henry James' seminal novel, The Portrait of a Lady. Mrs. Osmond catches up with Isabel Archer, the impetuous heroine of James' classic, as she comes into a large inheritance and falls prey to a charming but cruel husband. Perfect for readers who loved books like Jo Baker's Longbourn or P.D. James' Death Comes to Pemberley, Mrs. Osmond follows the original storyline to a certain point before taking off in directions that would have thrilled Henry James himself.
For those of us who haven't read The Portrait of a Lady since high school, we've put together a brief guide that should get you and your reading group up to speed on James' beloved novel.
Main Characters
Isabel Archer: Our heroine, a young woman who wants to make her own way in the world
Gilbert Osmond: Isabel's eventual husband, an arrogant and selfish American collector with no societal standing or fortune
Madame Merle: An American woman who befriends Isabel but betrays her for the sake of ambition
Ralph Touchett: Isabel's cousin and close friend who is sick with consumption—he convinces his father to leave part of his fortune to Isabel
Caspar Goodwood: Isabel's American suitor
Lord Warburton: Isabel's aristocratic suitor, also a British lord
Pansy Osmond: Gilbert Osmond's daughter, very young and impressionable
The Basic Plot
Isabel Archer, an intelligent but naïve young American woman, is invited to visit her aunt and uncle in London after her father passes away. She seizes the opportunity to see the world and assert her independence, and becomes fast friends with her ailing cousin Ralph. Shortly following her arrival, she finds herself the object of affection of a number of would-be suitors, including an English aristocrat, an American gentleman, and a sensitive expatriate. But when she unexpectedly comes into a large fortune, naïve Isabel falls prey to the machinations of her supposed friend, Madame Merle. Merle convinces her to marry the egotistical and arrogant Gilbert Osmond, with whom the older woman has a mysterious relationship.
Isabel and Osmond's marriage soon sours and they clash over matters ranging from her independence to the arrangement of a marriage for his daughter Pansy to Osmond's relationship with Merle. When it is revealed that Merle is, in fact, Pansy's mother, Isabel is forced to confront her husband's true nature.
Meanwhile, Ralph's health has continued to fail, and Isabel defies her husband to be by his side. During her travels, one of her previous suitors reappears, desperate to win her heart. But Isabel is torn between honoring her marriage or her independent spirit. Her story ends ambiguously, with Isabel returning to Osmond in Rome.
Famous Quotes from The Portrait of a Lady
"American girls were used to a great deal of deference, and it had been intimated that this one had a high spirit." (Chapter 2)
"It may be affirmed without delay that Isabel was probably very liable to the sin of self-esteem; she often surveyed with complacency the field of her own nature; she was in the habit of taking for granted, on scanty evidence, that she was right; she treated herself to occasions of homage." (Chapter 6)
"You've too many graceful illusions. Your newly acquired thousands will shut you up more and more to the society of a few selfish and heartless people who will be interested in keeping them up." (Chapter 20)
"She has only one fault. . . . She has too many ideas." (Chapter 26)
"To live only to suffer—only to feel the injury of life repeated and enlarged—it seemed to her she was too valuable, too capable, for that." (Chapter 53)