Immerse Yourself in the Music and Magic of Killing Commendatore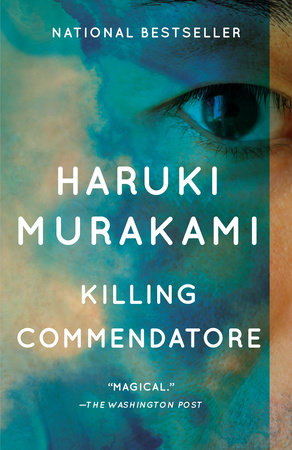 Now out in paperback, Killing Commendatore is classic Murakami. It features an enigmatic protagonist, surrealism, deadpan humor, art, and whiskey. In true Haruki Murakami fashion, what the characters hear is as important as what they see, and Murakami's protagonist is always putting on music, whether it's a Sheryl Crow CD as he drives out of Tokyo after his wife leaves him or a record of Don Giovanni as he tries to solve the mystery of a brilliant but unknown painting.
To help you fully immerse yourself in the experience of reading this magical novel, check out this playlist of songs mentioned in the book:

(If you can't see the Spotify playlist, click here.)

You've listened to the music, you've finished the book—now what's a fan to do? As with all of Murakami's novels, Killing Commendatore is full of quotable lines. We've collected some of our favorites and hope you'll enjoy sharing them with other Murakami fans on social media. Just right-click on the images below, save, and share.