The Bestselling Author of Lab Girl Returns with The Story of More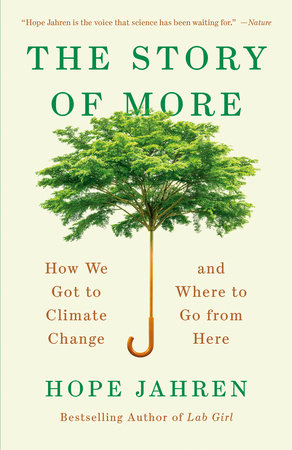 Here at the Reading Group Center, we're big fans of Hope Jahren's debut memoir, Lab Girl, so you can imagine our excitement when we learned that Hope would be releasing a new book this spring! Written with Hope's trademark clarity, warmth, and moxie, The Story of More is an urgent missive on the defining issue of our time: climate change. Hope was kind enough to write a note to her readers, introducing you to what will inevitably be the essential pocket primer to the greatest threat facing our planet. Keep reading to learn more!
Dear Reader,
First of all, thank you for reading books! In a world full of distractions, you are giving your time to writers, to ideas, thoughts, and feelings . . . perhaps memories? What would the world do without people like you?
When Lab Girl was published in 2016, everything changed for me. The story of me and my best friend somehow connected with a great number of people, all of whom have their own stories of work and love—maybe not about plants, but about almost everything else in life! In that vein, I'd love for you to take a look at my new book, The Story of More, and see if there is something in it that would interest you—and maybe even other readers you know—for it is the story of all of us, of the past fifty years of our lives, and what those years might have given to us—and taken from us—in the future.
Just like many of the people that I meet each day, I have plenty of questions about climate change: mostly along the lines of "What should I believe?" and "Should I be afraid?" Because a scientist's job is to answer questions, I did my research and wrote The Story of More. It is the book of answers that I found for the questions above. It's full of simple explanations, personal stories, and our shared history of global change—what it doesn't contain is preaching and propaganda. It is the science that I needed to write, and maybe—just maybe—it contains answers that you would like to mull over. It is a book on climate change that is truly for everyone, regardless of their "politics."
Sincerely,
Hope Jahren