Our Go-To Mother's Day Gifts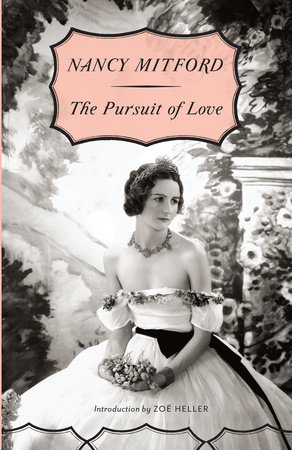 Mother's Day is May 9, and we believe there is no better way to celebrate Mom than giving her a book and some time alone to read it! Below are a few of the books that we're sure your mother will love, so skip the past-their-prime flowers this year and give her something she'll really enjoy.
The Pursuit of Love by Nancy Mitford
Mitford's most enduringly popular novel, The Pursuit of Love, is a classic comedy about growing up and falling in love among the privileged and eccentric. Mitford modeled her characters on her own famously unconventional family. We are introduced to the Radletts through the eyes of their cousin Fanny, who stays with them at Alconleigh, their Gloucestershire estate. Uncle Matthew is the blustering patriarch, known to hunt his children when foxes are scarce; Aunt Sadie is the vague but doting mother; and the seven Radlett children, despite the delights of their unusual childhood, are recklessly eager to grow up.
---

The Source of Self-Regard by Toni Morrison
Here is Toni Morrison in her own words: a rich gathering of her most important essays and speeches, spanning four decades.
These pages give us her Nobel lecture on the power of language, her searching meditation on Martin Luther King, Jr., her heartrending eulogy for James Baldwin. She looks deeply into the fault lines of culture and freedom: the foreigner, female empowerment, the press, money, "black matter(s)," human rights, the artist in society, the Afro-American presence in American literature. And she turns her incisive critical eye to her own work (The Bluest Eye, Sula, Tar Baby, Jazz, Beloved, Paradise) and that of others.
An essential collection from an essential writer, The Source of Self-Regard shines with the literary elegance, intellectual prowess, spiritual depth, and moral compass that have made Toni Morrison our most cherished and enduring voice.
---

Heartburn by Nora Ephron
Is it possible to write a sidesplitting novel about the breakup of the perfect marriage? If the writer is Nora Ephron, the answer is a resounding yes. For in this inspired confection of adultery, revenge, group therapy, and pot roast, the creator of Sleepless in Seattle reminds us that comedy depends on anguish as surely as a proper gravy depends on flour and butter.
Seven months into her pregnancy, Rachel Samstat discovers that her husband, Mark, is in love with another woman. The fact that the other woman has "a neck as long as an arm and a nose as long as a thumb and you should see her legs" is no consolation. Food sometimes is, though, since Rachel writes cookbooks for a living. And in between trying to win Mark back and loudly wishing him dead, Ephron's irrepressible heroine offers some of her favorite recipes. Heartburn is a sinfully delicious novel, as soul-satisfying as mashed potatoes and as airy as a perfect soufflé.
---

Homegoing by Yaa Gyasi
Ghana, eighteenth century: two half-sisters are born into different villages, each unaware of the other. One will marry an Englishman and lead a life of comfort in the palatial rooms of the Cape Coast Castle. The other will be captured in a raid on her village, imprisoned in the very same castle, and sold into slavery.

One of Oprah's Best Books of the Year and a PEN/Hemingway award winner, Homegoing follows the parallel paths of these sisters and their descendants through eight generations: from the Gold Coast to the plantations of Mississippi, from the American Civil War to Jazz Age Harlem. Yaa Gyasi's extraordinary novel illuminates slavery's troubled legacy both for those who were taken and those who stayed—and shows how the memory of captivity has been inscribed on the soul of our nation.
---

The Best Cook in the World by Rick Bragg
Part cookbook, part memoir, The Best Cook in the World is Pulitzer Prize winner Rick Bragg's loving tribute to the South, his family, and, especially, to his extraordinary mother. Here are irresistible stories and recipes from across generations. They come, skillet by skillet, from Bragg's ancestors, from feasts and near famine, from funerals and celebrations, and from a thousand tales of family lore as rich and as sumptuous as the dishes they inspired. Deeply personal and unfailingly mouthwatering, The Best Cook in the World is a book to be savored.
---

Gift from the Sea by Anne Morrow Lindbergh
Lindbergh casts an unsentimental eye on the trappings of modernity that threaten to overwhelm us: the time-saving gadgets that complicate rather than simplify, the multiple commitments that take us from our families. By recording her thoughts during a brief escape from everyday demands, she helps readers find a space for contemplation and creativity within their own lives.
In this beloved classic Anne Morrow Lindbergh – mother of five, an acclaimed writer and a pioneering aviator – shares her meditations on youth and age; love and marriage; peace, solitude, and contentment as she set them down during a brief vacation by the sea.
Drawing inspiration from the shells on the shore, Lindbergh's musings on the shape of a woman's life bring new understanding to both men and women at any stage of life.