Charles Johnson's Preface to Juneteenth by Ralph Ellison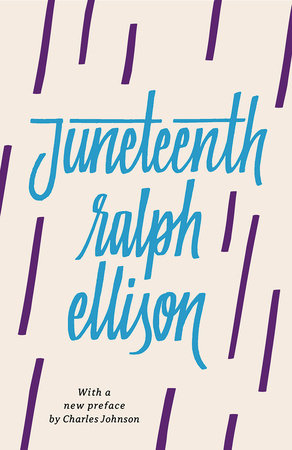 You are probably familiar with Ralph Ellison from his classic novel Invisible Man, but did you know that he wrote a second novel? After Ellison's death in 1994, his literary executor John F. Callahan compiled Juneteenth out of thousands of manuscript pages. This year, we're publishing a revised edition of Juneteenth with a new preface by National Book Award-winning author Charles Johnson. Read the new preface below.
On November 27, 1990, when my novel Middle Passage received the fiction prize at the fortieth anniversary of the National Book Awards, held in the Plaza Hotel in New York City, I used my time at the microphone to deliver a tribute to someone in the audience: Ralph Ellison. I was the first black man to receive that award in thirty-seven years. Ellison's wife, Fanny, nudged him to stand while I honored him, and he proudly did so. Afterward reporters were eager to ask him questions, and he said two things that I believe are of great importance then and now.
Just to me, he said, sotto voce, "I thought I had been forgotten."
That statement was astonishing. It said a great deal about the vagaries of literary fortunes, about the author of Invisible Man (as well as how he saw himself) and what had transpired in literary culture since 1953 when his first novel received the National Book Award. By any measure, that was a watershed moment in American literature. Invisible Man was shortlisted with Ernest Hemingway's classic novella The Old Man and the Sea, which later that year received the Pulitzer Prize for Fiction. According to Arnold Rampersad's biography of Ellison, William Faulkner was in attendance and the judges were a roster of this country's distinguished literary scholars and critics: Saul Bellow, Martha Foley, Irving Howe, Howard Mumford Jones, and Alfred Kazin.
Although Invisible Man was not a bestselling novel at the time of its publication, its influence grew over the next decade as it ceased to be simply a novel and instead became an American cultural artifact. That status was cemented in the 1960s, when a panel of literary scholars selected Invisible Man as the best American novel published since World War II. But with fame there also came controversy, for the 1960s gave birth to the Black Arts Movement, the cultural wing of the Black Power movement. No doubt his magisterial novel inspired awe and gratitude, but it also inspired frustration, because it presented a challenge to many readers' simplistic formulas about race in America. In his 1952 review, writer John Oliver Killens said, "The Negro people need Ralph Ellison's Invisible Man like we need a hole in the head or a stab in the back. . . . It is a vicious distortion of Negro life." Equally critical was Amiri Baraka, who dismissed Ellison as a middle-class Negro for his insistence that mastery of literary craft must take priority over politics in a writer's apprenticeship. (The superb poet Robert Hayden and master painter Jacob Lawrence also suffered similar abuse.) For Ellison that apprenticeship included T. S. Eliot as well as Langston Hughes, Pound and Hemingway along-side Richard Wright, Gertrude Stein, and Dostoevsky together with the blues.
Today we see once more a debate over race and racism in America fought across the old battle lines, and we are challenged to reflect on the second illuminating statement Ellison made on that night in 1990, when answering a question from a reporter: "My God," he said, "you don't write out of your skin; you write out of your imagination." Earlier in his writings, Ellison stated that "by a trick of fate (and our racial problems notwithstanding), the human imagination is integrative— and the same is true of the centrifugal force that inspirits the democratic process." This crucial insight positions Ellison within the intellectual tradition of integration, which aligns his thinking with that of the NAACP, W. E. B. Du Bois, Martin Luther King Jr., James Baldwin, the civil rights movement, and our first black president, Barack Obama. He understood the undeniable interpenetration of our lives— of all life— and how, to quote scholar Kwame Anthony Appiah in his book In My Father's House, "We are all already contaminated by each other."
In one of the delicious ironies of literary criticism, Larry Neal, one of the principle thinkers behind the Black Arts Movement (along with Baraka), first published an essay critical of Invisible Man. Later, in the interest of honesty, he rethought his position and published a second essay praising Invisible Man as a work that achieved all the goals of the Black Arts Movement. And indeed, Invisible Man not only achieved the goal of a robust celebration of black culture; it gracefully blended many literary genres and traditions— from Mark Twain to William Faulkner, from the slave narrative to the surrealistic Kafkaesque parable, from black folklore to Freud— and by doing so forced us to experience in the novel's very techniques and inventiveness the spirit of democracy, diversity, and literary inclusion.
As if this were not enough, Ellison gave our age a new metaphor for social alienation. His definition of invisibility is so common now, so much a part of the culture and language— like a coin handled by millions— that it is automatically invoked when we talk about the situation of black Americans and any social group we willingly refuse to see.
Can we say, then, that Ralph Ellison was both a black writer and a quintessentially American one? And that there is no contradiction in that? I believe we can. In yet another powerful statement, he sought to remind us that, "The thing that Americans have to learn over and over again is that they are individuals and have the responsibility of individual vision."
So despite his death on April 16, 1994, we are by no means finished with Ralph Ellison's literary legacy. Nor will he ever be forgotten for composing one of the greatest novels of the twentieth century. Like that first work, Juneteenth guarantees that we will be discussing his nonpareil achievements for as long as we care about literature that is multileveled, ambitious, challenging, and crafted in the spirit of Ellison's belief that "the understanding of art depends finally upon one's willingness to extend one's humanity."
We are indebted, of course, to John Callahan for conjuring this portion of Ellison's second, long- awaited novel from more than two thousand pages revised and rewritten over a period of forty-two years. Everywhere in Juneteenth, Ellison's decades-long distillation of craftsmanship and originality of thought are in evidence. His dedication for this ambitious work ("To That Vanished Tribe into Which I Was Born: The American Negroes") signals his project of honoring and exploring the lives of black Americans who, from the nation's founding to the 1950s, and despite the burden of racial oppression, embodied our republic's loftiest ideals.
In Juneteenth, that Vanished Tribe is represented by the Reverend Alonzo Hickman, who raises a (probably) white boy named Bliss in the hope that he will recognize the complexity of the American experience and "speak for our condition from inside the only acceptable mask. That he would embody our spirit in the councils of our enemies." But Bliss, a shapeshifter much like the mysterious charac­ter Rinehart in Invisible Man, turns his back on the black culture that nurtured him, transforming first into a filmmaker, then into a race-baiting senator named Adam Sunraider ("the most vehement enemy of their people in either house of Congress") who is shot by a black assassin (who in an all-too-American twist of fate, turns out to be his son) on the Senate floor.
Unraveling the mystery of Bliss's odyssey from child preacher to con man to racist politician, and of his own failure, becomes Rev. Hickman's obsession as he keeps a vigil by the mortally wounded Sunraider's deathbed. Unlike Invisible Man, that barn-burning bil­dungsroman that explodes forward from one chapter to the next, Juneteenth spirals downward ever deeper through layers of memory, history, philosophical reflection, and culture—and in doing so deliv­ers the most dazzling, breathtakingly seductive writing we have wit­nessed in more than half a century.
Here, in dozens of fully imagined, deeply felt passages refined and polished to the level of poetry, readers will find an exuberant, democratic fusion of fictional styles and American voices and ver­naculars; symphonically rendered scenes of Southern revivals that celebrate "Juneteenth," the day (June 19, 1865) that Union troops entered Texas; an astonishingly beautiful tribute to Abraham Lincoln offered with the acuity that only a member of the Vanished Tribe could write, because it reveals our fourteenth president to be "one of us, not only because he freed us to the extent that he could, but because he freed himself of that awful inherited pride they deny to us"; and Ellison's characteristic humor and irony, his delicious wordplay and punning as he broods deeply on philosophical ques­tions such as reality vs. illusion, blindness vs. true seeing, and the fact that our lives are already more integrated than we usually dare to acknowledge ("There's always the mystery," he writes, "of the one in the many and the many in the one, the you in them and the them in you—ha!").
In a word, Juneteenth is the long-awaited work we need now to bolster our discourse on race, just as we need the singular voice and deeply humanistic vision of Ralph Waldo Ellison to remind us, as he does in this capacious novel, that "man at his best, when he's set in all the muck and confusion of life and continues to struggle for his ideals, is near sublime."
Charles Johnson
February 2021
Excerpted from Juneteenth (Revised) by Ralph Ellison Copyright © 2021 by Charles Johnson. Excerpted by permission of Vintage. All rights reserved. No part of this excerpt may be reproduced or reprinted without permission in writing from the publisher.