5 Novels that Reimagine History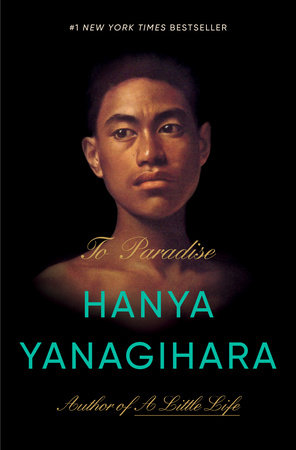 An actual railroad that runs on underground tracks. An alternate nineteenth-century America where people can freely love whomever they want. A version of history where Franklin D. Roosevelt loses the presidential election. A parallel existence where the year itself is unknown. A British couple whose lives are upended by one of the first generations of synthetic humans. All these narratives explore alternate paths that diverge from history as we know it. If you're curious to read about what could have happened but didn't, then one (or probably more) of these books is for you! At once lively and chilling, each of these stories captivate and enthrall with masterful reimaginings of how history may have unfolded.
To Paradise by Hanya Yanagihara
In an alternate version of 1893 America, New York is part of the Free States, where people may live and love whomever they please (or so it seems). The fragile young scion of a distinguished family resists betrothal to a worthy suitor, drawn to a charming music teacher of no means. In a 1993 Manhattan besieged by the AIDS epidemic, a young Hawaiian man lives with his much older, wealthier partner, hiding his troubled childhood and the fate of his father. And in 2093, in a world riven by plagues and governed by totalitarian rule, a powerful scientist's damaged granddaughter tries to navigate life without him—and solve the mystery of her husband's disappearances. These three sections are joined in an enthralling and ingenious symphony, as recurring notes and themes deepen and enrich one another.
---
The Underground Railroad by Colson Whitehead
In Colson Whitehead's ingenious conception, the Underground Railroad is no mere metaphor: engineers and conductors operate a secret network of actual tracks and tunnels beneath the Southern soil. Cora embarks on a harrowing flight from one state to the next, encountering, like Gulliver, strange yet familiar iterations of her own world at each stop. As Whitehead brilliantly re-creates the terrors of the antebellum era, he weaves in the saga of our nation, from the brutal abduction of Africans to the unfulfilled promises of the present day.
Buy the book | Read an excerpt | Get the reading guide
---
The Plot Against America by Philip Roth
In an extraordinary feat of narrative invention, Philip Roth imagines an alternate history where Franklin D. Roosevelt loses the 1940 presidential election to heroic aviator and rabid isolationist Charles A. Lindbergh. Shortly thereafter, Lindbergh negotiates a cordial "understanding" with Adolf Hitler, while the new government embarks on a program of folksy anti-Semitism.
Buy the book | Read an excerpt | Get the reading guide
---
1Q84 by Haruki Murakami
The year is 1984 and the city is Tokyo. A young woman named Aomame follows a taxi driver's enigmatic suggestion and begins to notice puzzling discrepancies in the world around her. She has entered, she realizes, a parallel existence, which she calls 1Q84 —"Q is for 'question mark.' A world that bears a question." Meanwhile, an aspiring writer named Tengo takes on a suspect ghostwriting project. He becomes so wrapped up with the work and its unusual author that, soon, his previously placid life begins to come unraveled.
Buy the book | Read an excerpt | Get the reading guide
---
Machines Like Me by Ian McEwan
Set in an uncanny alternative 1982 London—where Britain has lost the Falklands War, Margaret Thatcher battles Tony Benn for power, and Alan Turing achieves a breakthrough in artificial intelligence—Machines Like Me powerfully portrays two lovers who will be tested beyond their understanding. Charlie, drifting through life and dodging full-time employment, is in love with Miranda, a bright student who lives with a terrible secret.
Buy the book | Read an excerpt