A Literary Gem: Cutting for Stone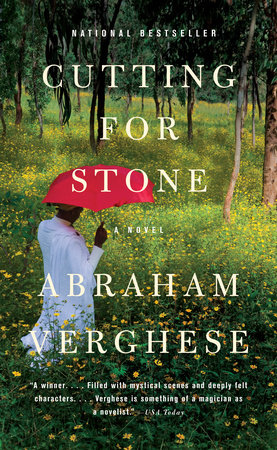 NATIONAL BESTSELLER
A San Francisco Chronicle Best Book of the Year
An NPR Best Book Club Book of the Year (Lynn Neary)
Marion and Shiva Stone are twin brothers born of a secret union between a beautiful Indian nun and a brash British surgeon. Orphaned by their mother's death and their father's disappearance, bound together by a preternatural connection and a shared fascination with medicine, the twins come of age as Ethiopia hovers on the brink of revolution. Moving from Addis Ababa to New York City and back again, Cutting for Stone is an unforgettable story of love and betrayal, medicine and ordinary miracles—and two brothers whose fates are forever intertwined.
Praise for Cutting for Stone:
"Lush and exotic. . . . The kind [of novel] Richard Russo or Cormac McCarthy might write. . . . Shows how history and landscape and accidents of birth conspire to create the story of a single life. . . . Verghese creates this story so lovingly that it is actually possible to live within it for the brief time one spends with this book. You may never leave the chair."
—Los Angeles Times
"Vivid. . . . Cutting for Stone shines."
—The Washington Post Book World
"Absorbing, exhilarating. . . . If you're hungry for an epic . . . open the covers of Cutting for Stone, [then] don't expect to do much else."
—The Seattle Times
Read more praise.
Keep clicking:
• Browse a listing of events from Abraham Verghese's book tour.