Pick Up Peter Mayle's Newest Novel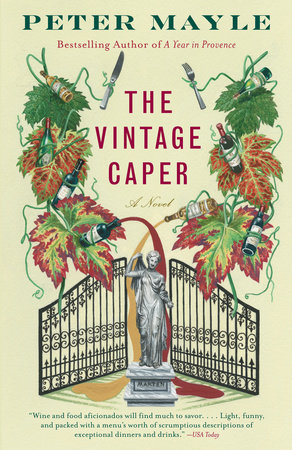 From the author who brought you the bestselling novel, A Year in Provence, now gives us his newest addition, The Vintage Caper. Be sure to pick up Peter Mayle's latest novel, new in paperback.
From Hollywood to Marseille with delicious stops in between, Peter Mayle's latest novel is filled with the culinary delights and entertaining characters that make him our treasured chronicler of French food and life.
The story begins high above Los Angeles at the impressive wine cellar of lawyer Danny Roth. Unfortunately, after inviting the Los Angeles Times to write an extensive profile extolling the liquid treasures of his collection, Roth finds himself the victim of a world-class wine heist. Enter Sam Levitt, former lawyer and wine connoisseur, who follows leads to Bordeaux and Provence. The unraveling of the ingenious crime is threaded through with Mayle's seductive rendering of France's sensory delights—even the most sophisticated of oenophiles will learn a thing or two from this vintage work by a beloved author.
"Wine and food aficionados will find much to savor…. Light, funny, and packed with a menu's worth of scrumptious descriptions of exceptional dinners and drinks."
—USA Today
"A succession of excellent repasts and leisurely ambles, which Mayle depicts with painterly ease and signature savoir vivre…. Pure Provence."
—National Geographic Traveler
Click here for Peter Mayle's author tour schedule.
Click here for an excerpt.
Click here for a reading group guide.
Click here to buy the book.