Bring Lorrie Moore's Award Winning New Novel to Your Reading Group!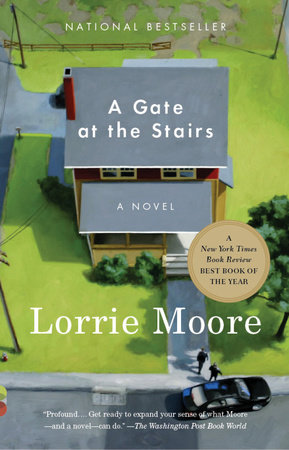 Not only is A Gate at the Stairs is Lorrie Moore's newest national bestseller, but it's also a finalist for the PEN/Faulkner Award, finalist for the Orange Prize for Fiction, and a Nationwide Best Book of the Year:
The New York Times Book Review, The Washington Post, Chicago Tribune, The Christian Science Monitor, Kansas City Star, Financial Times, St. Louis Post-Dispatch, and Real Simple
Twenty-year-old Tassie Keltjin, the daughter of a gentleman farmer, has come to a university town as a student. When she takes a job as a part-time nanny for a mysterious and glamorous family, she finds herself drawn deeper into their world and forever changed. Told through the eyes of this memorable narrator, A Gate at the Stairs is a piercing novel of race, class, love, and war in America.
"Profound…. Get ready to expand your sense of what Moore—and a novel—can do."
—The Washington Post Book World
"An indelible portrait of a young woman coming of age in the Midwest in the year after 9/11…. Moore has written her most powerful book yet."
—The New York Times
Bring this wonderful new novel by Lorrie Moore to your reading group and find a free reading group guide here.!
Click here for an excerpt.
Click here to buy the book.