This Isn't Your Mother's Holiday Soiree—How to Throw a Bolter Party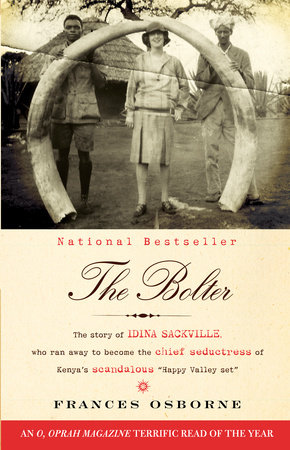 Thanksgiving is already upon us, and the holidays are fast approaching, which means that party season is in full swing. But in the midst of all the hustle and bustle, you might just find yourself wishing for an alternative to the same old office parties and family obligations. What's a girl to do? Frances Osborne, author of The Bolter—the bestselling biography of Osborne's independent and enigmatic great-grandmother, Idina Sackville—offers up one suggestion. Inspired by the infamous gatherings Idina hosted in 1920s and 1930s Kenya, Osborne has provided us with an A to Z guide on creating your very own Bolter party…from music to food and everything in between. So, whether you're ready to play hostess or just looking for a little inspiration, enjoy.
HOW TO THROW A "BOLTER" PARTY
MUSIC
The first step in planning a Bolter party should always be music. It's not only invaluable to the atmosphere of the party itself, but can be just as inspiring to you while coordinating the event. The party should begin with the 'Hot Jazz' of the 1920s, including artists like Louis Armstrong (strictly the early stuff). Jazz's chaotic and boisterous sound was highly controversial in this decade, so it's perfect to underscore a party that is revving up. The playlist should then transition into the 1930s, which gave rise to dance jazz—or swing. While still lively, big jazz bands led by the likes of Cab Calloway, Duke Ellington, and Count Basie are a touch less frenzied—ideal for sitting down to a meal. As the evening winds down, so should the music. More melodic and somber than jazz, the blues were just as popular and their utter coolness is perfect to send your guests off into the night. By the early 1940s, Idina's favorite songs were Harold Arlen's "Stormy Weather" and Rodgers and Hart's "There's a Small Hotel". For blues at its coolest, though, one can never go wrong with Bessie Smith. But don't forget that the Happy Valley Set also had a teddibly sharp sense of humor, so age-appropriate tracks from Cole Porter and Noël Coward should be peppered liberally throughout.
Neophyte: early Louis Armstrong; Cole Porter; Duke Ellington
Flapper: Bessie Smith; Harold Arlen
Twenty-First Century Idina: Noël Coward; Cab Calloway
TIME AND PLACE
Lunch or dinner? Idina was famous for her decadent dinner parties, but you could just as well have a Bolter picnic—outside or in, depending on the weather. In Kenya, Idina and her friends would ride or drive off into the bush, often with a windup gramophone. They would sprawl on rugs, gorge themselves on delicious meals and potent drinks, and then doze in the sun. I went to a great Bolter picnic in Southampton, where the hostess had stretched a long table out under a white colonial canopy. There was long grass around us, deer running through. We could almost have been in Africa—sheer magic, and an effect worth the effort.
Neophyte: Cocktails and Hors d'œuvre in your living room, decorated with exotic throw pillows, beautiful cloths, and scarves.
Flapper: Outdoor picnic laid out on rugs and linens, perhaps under a canopy
Twenty-First Century Idina: Full dinner party
ATTIRE
The sartorial perk of living on the Kenyan frontier? Anything goes—from long strings of pearls and flapper headbands to full safari regalia. Idina welcomed her houseguests by leaving a pair of silk pajamas (and a bottle of whiskey) on their pillows; in the 1920s it was all the rage to wear this luxe sleepwear to dinner. The brighter the colors, the smarter you were. Idina's female version was to wear a red and gold Kenyan kekoi cloth, wrapped around her chest just above her breasts. Many evenings, however, she wore a midnight blue velvet kaftan to keep out the cold night air high up on her African mountainside. But chic—indisputably chic—is how Idina usually dressed and she expected the same of her friends. So dress up, and dress to kill.
Neophyte: Long strings of pearls
Flapper: Full 1920s attire (the more glitz the better)
Twenty-First Century Idina: Silk pajamas (personal bottle of whiskey optional)
DRINKS
No matter how much Idina drank, cocktails are optional—though preferable. Of course, feel free to bypass the step where your guests enjoy them in your bathroom as you bathe and dress for the evening (though, perhaps don't write off the bathroom entirely!). Have the cocktails wherever you can best listen to music, as there has never been a happier marriage than between gin and jazz. Whiskey Sours, Pink Gins, and Gin Fizzes were the drinks of the day. Idina and her set also had a signature favorite called Black Velvet, a potent mixture of Guinness and champagne, which was also greedily consumed many a morning-after as a hangover remedy. Wine was hard to find in Kenya, so most just stuck to whiskey throughout the meal. But back in London in the early Twenties, they drank champagne until dawn broke. Honestly—Idina even taught Tallulah Bankhead how to fill a bath with it and climb in. Cocktails definitely continue after dinner. For those abstaining, the good old-fashioned Lime Cordial is a good way to go.
Neophyte: Whiskey Sour
Flapper: Gin Fizz; champagne
Twenty-First Century Idina: Black Velvet (morning or evening); create your own gin cocktail
FOOD
Note that this comes only after the question of what to drink. If you're daytime picnicking, then Idina would have offered cucumber sandwiches, smoked salmon, chicken legs, bush omelettes, and sausages cooked over a camp fire. (So, really, brunch is a distinct possibility for your party, too). Idina and her friends used to set off riding each morning, often as early as six o'clock, and return home to a huge breakfast spread. When on safari, though, camp fires were all they had to prepare food. As for dinner, it must be French—fusion is not very flapper. Cheese soufflés, terrines, fish or beef en croute, and all the rest of it. Four courses, please, that can mean fish followed by meat, and cheese before dessert, à la Françoise. Idina owned cattle, so beef dishes are especially appropriate. To go all out, a sorbet or two in between courses to refresh the palette would be onpoint. Or simply make a gesture in this European direction—Idina and her bons vivants would hardly be compelled to turn down your best dish.
Neophyte: Hors d'œuvre such as crudités, French cheeses, or crêpes
Flapper: Bœuf bourguignon (a delicious beef and red wine stew)
Twenty-First Century Idina: Chateaubriand steak (long heralded as one of the most flavorful cuts of beef to be had)
DISCUSSION
When loading your conversational arsenal beforehand, remember that it does not matter so much what you talk about as it does how utterly charming you are. Stay focused on your neighbor, and remember to swap sides with each course. Idina and her friends would have flirted out of good manners, doubtless talked about who was up to what, but the common currency of Kenyan dinnerparty conversations was books you had read. How appropriate! Alone in their Kenyan farmsteads most of the time, Idina and her friends read ferociously until they shut down their generators for the night. Idina had her friends in England and the United States send her all the latest books and she was regarded as the best-read person in Kenya. When I went up to Clouds I saw the remnants of her bookshelves on the wall of her library and found it very moving.
For questions and prompts for a lively discussion on The Bolter, please refer to Vintage's reading group guide. The main thing to remember about conversation amongst Idina's friends is that it was very quick and sharp. Feel free to be witty, make puns, point out the absurdities of life, and even be a little naughty. Or just laugh along with everyone else.
AFTER DINNER
Well, now, that's up to you. You can dance to that jazz if you like, but Idina and her friends often played parlor and word games like charades or made up limericks in alternating turns. When Idina was out on safari, she and her companions would sit around the camp fire at night, doing just that. This was part of a Twenties wild time tradition of 'stunting.', done to amuse other guests by showing off some trick you could do—a modernized and often wickeder version of performing on the piano, though that, too, is Bolter-esque evening entertainment. It was from this stunting that Idina's infamous party games evolved. Yes, those feather and sheet games, and the rest of it…
Neophyte: Charades
Flapper: Improvised group storytelling or poem-writing
Twenty-First Century Idina: All bets are off
WHOM TO INVITE
When you've worked out how you want your Bolter party to play, then invite the friends who would enjoy it most. They might be people who love the era, or the book, or those who you think might. You could just invite your book group, or cast the net more widely. The most important thing is for everyone to have a good time!
Neophyte: Close friends or book club
Flapper: Friends and friends of friends
Twenty-First Century Idina: Everyone!
—Frances Osborne
More about The Bolter.
Read an excerpt from The Bolter.
Print a free reading group guide.