Praise for The Tower, the Zoo, and the Tortoise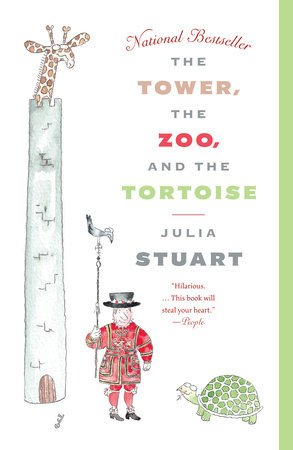 As with any great reading group pick, The Tower, the Zoo, and the Tortoise is a story about love and loss. What sets Julia Stuart's novel apart is the giraffe…and the penguins…and the Komodo dragon. Also, did we mention that the book is set in the Tower of London, and that the main character is a Beefeater named Balthazar Jones? Says Entertainment Weekly: "History buffs, animal lovers, and simply the tenderhearted will swoon over this captivating story." Read on for a menagerie of praise from the critics!
"[A] hilarious love story…. This book will steal your heart." —People
"Feather-light without being feather-brained. Julia Stuart has penned a work that is original and every-page amusing." —The Denver Post
"A marvelous confection of a book." —The Washington Times
"Delightfully zany and touching…. With her deft and charming style, Stuart brings this comic story to a satisfying and heartwarming end." —The Washington Post
"Imagine a funny, poignant book, full of delightful and wacky characters, then add a bit of English history, and you've got The Tower, the Zoo, and the Tortoise…. This is Carl Hiaasen for the Tower of London." —NPR, "Best Books of 2010"
"Stuart's tale is a comedy of realms—her Tower, her England—where people and things are out of place…. Sometimes it takes an escaped Komodo dragon for people to begin sorting out their lives." —BookPage
Click here to read an excerpt from the book, and click here to download our reading group guide.