Give Your Book Club The Creeps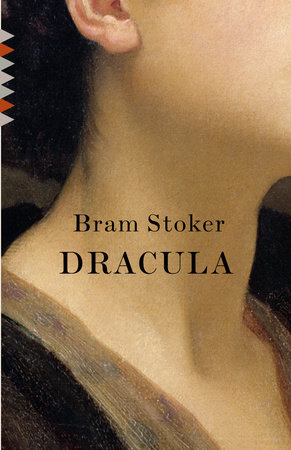 Get into the Halloween spirit by picking a spooky, scary, seasonally-appropriate read for your book club this month! Don't be afraid…these books may send a shiver up your spine, but we promise they won't bite. (Well…Dracula might.) Plus, all are sure to inspire plenty of discussion. What makes a great horror story? How do authors create suspense? What's the scariest book you've ever read? Discuss with your reading group, then tell us in the comments!
Read on for some chilling book club selections, and don't miss our exclusive video of Karen Essex talking about her favorite spooky stories.
Dracula
Written by Bram Stoker
Since its publication in 1897 Dracula has enthralled generations of readers with the alluring malevolence of its undead Count, the most famous vampire in literature. Though Bram Stoker did not invent vampires, his novel helped catapult them to iconic stature, spawning a genre of stories and movies that flourishes to this day. A century of imitations has done nothing to diminish the fascination of Stoker's tale of a suave and chilling monster as he stalks his prey from a crumbling castle in Transylvania's Carpathian mountains to an insane asylum in England to the bedrooms of his swooning female victims. A classic of Gothic horror, Dracula remains an irresistible entertainment of undying appeal.
Read an Excerpt | Download our Reading Group Guide
Dracula in Love
Written by Karen Essex
London, 1890. Mina Murray Harker, the rosy-cheeked, quintessentially pure Victorian heroine, becomes Count Dracula's object of desire. To preserve her chastity, five male "defenders" rush in to rescue her from the vampire's evil clutches. This is the story we have been told. But now, from Mina's own pen, we discover a tale more sensual, more devious, and more enthralling than the Victorians could have ever imagined. From the shadowy banks of the river Thames to the wild and windswept Yorkshire coast, Mina vividly recounts the intimate details of what really transpired between her and the Count—the joys and terrors of a passionate affair, as well as her rebellion against her own frightening preternatural powers.
Read an Excerpt | Download our Reading Group Guide | Read an Essay By Karen Essex
When a man escapes from a biological testing facility, he sets in motion a deadly domino effect, spreading a mutated strain of the flu that will wipe out 99 percent of humanity within a few weeks. The survivors who remain are scared, bewildered, and in need of a leader. Two emerge–Mother Abagail, the benevolent 108-year-old woman who urges them to build a community in Boulder, Colorado; and Randall Flagg, the nefarious "Dark Man," who delights in chaos and violence. (Also, consider reading two other Stephen King classics: Carrie and Night Shift!)
Read an excerpt | Download Our Discussion Questions for Fiction
Dexter is Delicious
Written by Jeff Lindsay
Dexter Morgan's neatly organized life as a blood spatter analyst for the Miami Police, devoted husband and father, and killer of only those who deserve it is turned upside down by the arrival of his new daughter, Lily Anne. Feeling surprisingly sunny and loving, he's trying to suppress the influence of his Dark Passenger—the voice inside who guides his homicidal urges. But Dexter is summoned to investigate the disappearance of a seventeen-year-old girl who has been running with a bizarre group of goths who fancy themselves to be vampires. As Dexter gets closer to the truth of what happened to the missing girl, he realizes they are not really vampires, but cannibals. And most disturbing, these people have their eyes on Dexter…and their mouths are watering.
Read an Excerpt | Download Our Discussion Questions for Mystery & Crime Fiction
The Woman in Black
Written by Susan Hill
The classic ghost story by Susan Hill: a chilling tale about a menacing spectre haunting a small English town. Arthur Kipps is an up-and-coming London solicitor who is sent to Crythin Gifford—a faraway town in the windswept salt marshes beyond Nine Lives Causeway—to attend the funeral and settle the affairs of a client, Mrs. Alice Drablow of Eel Marsh House. Mrs. Drablow's house stands at the end of the causeway, wreathed in fog and mystery, but Kipps is unaware of the tragic secrets that lie hidden behind its sheltered windows. The routine business trip he anticipated quickly takes a horrifying turn when he finds himself haunted by a series of mysterious sounds and images—a rocking chair in a deserted nursery, the eerie sound of a pony and trap, a child's scream in the fog, and, most terrifying of all, a ghostly woman dressed all in black. Psychologically terrifying and deliciously eerie, The Woman in Black is a remarkable thriller of the first rate.
Download our Reading Group Guide
The Gargoyle
Written by Andrew Davidson
The mesmerizing story of one man's descent into personal hell and his quest for salvation. On a dark road in the middle of the night, a car plunges into a ravine. The driver survives the crash, but his injuries confine him to a hospital burn unit. There the mysterious Marianne Engel, a sculptress of grotesques, enters his life. She insists they were lovers in medieval Germany, when he was a mercenary and she was a scribe in the monastery of Engelthal. As she spins the story of their past lives together, the man's disbelief falters; soon, even the impossible can no longer be dismissed.
Read an Excerpt | Download our Reading Group Guide
The Sister
Written by Poppy Adams
Born into a long line of distinguished lepidopterists, scientists who study moths and butterflies, Ginny and Vivien grew up in a sprawling Victorian home. Forty-seven years later, Ginny lives there alone, tending to her moths and obsessions amid the ghosts of her past. But when her sister Vivien returns to the crumbling family mansion, dark, unspoken secrets rise, disrupting Ginny's ordered life and threatening the family's fragile peace. Told in Ginny's unforgettable voice, this debut novel tells a disquieting story of two sisters and the ties that bind-sometimes a little too tightly.
Read an Excerpt | Download our Reading Group Guide
Mary Reilly
Written by Valerie Martin
A fresh twist on the classic Jekyll and Hyde story: a novel told from the perspective of Mary Reilly, Dr. Jekyll's dutiful and intelligent housemaid. Faithfully weaving in details from Robert Louis Stevenson's classic, Martin introduces an original and captivating character: Mary is a survivor–scarred but still strong–familiar with evil, yet brimming with devotion and love. As a bond grows between Mary and her tortured employer, she is sent on errands to unsavory districts of London and entrusted with secrets she would rather not know. Unable to confront her hideous suspicions about Dr. Jekyll, Mary ultimately proves the lengths to which she'll go to protect him. Through her astute reflections this familiar tale is made more terrifying than we remember it and more complex than we imagined possible.
Download Our Discussion Questions for Fiction
The Icarus Girl
Written by Helen Oyeyemi
Jessamy "Jess" Harrison, age eight, is the child of an English father and a Nigerian mother. Possessed of an extraordinary imagination, she has a hard time fitting in at school. It is only when she visits Nigeria for the first time that she makes a friend who understands her: a ragged little girl named TillyTilly. But soon TillyTilly's visits become more disturbing, until Jess realizes she doesn't actually know who her friend is at all. Drawing on Nigerian mythology, Helen Oyeyemi presents a striking variation on the classic literary theme of doubles — both real and spiritual — in this lyrical and bold debut.
Read an Excerpt | Download our Reading Group Guide
Great Tales and Poems of Edgar Allan Poe
Written by Edgar Allan Poe
A compact selection of Poe's greatest stories and poems, chosen by the National Endowment for the Arts for their Big Read program. This selection of eleven stories and seven poems contains such famously chilling masterpieces of the storyteller's art as "The Tell-tale Heart," "The Fall of the House of Usher," "The Cask of Amontillado," and "The Pit and the Pendulum," and such unforgettable poems as "The Raven," "The Bells," and "Annabel Lee." Poe is widely credited with pioneering the detective story, represented here by "The Purloined Letter," "The Mystery of Marie Roget," and "The Murders in the Rue Morgue." Also included is his essay "The Philosophy of Composition," in which he lays out his theory of how good writers write, describing how he constructed "The Raven" as an example.
Read an Excerpt | Download Our Discussion Questions for Mystery & Crime Fiction | Download Our Discussion Questions For Poetry
Nightlight
Written by The Harvard Lampoon
And for the book club looking for a few laughs with their Halloween…pale and klutzy, Belle arrives in Switchblade, Oregon looking for adventure, or at least an undead classmate. She soon discovers Edwart, a super-hot computer nerd with zero interest in girls. After witnessing a number of strange events–Edwart leaves his tater tots untouched at lunch! Edwart saves her from a flying snowball!–Belle has a dramatic revelation: Edwart is a vampire. But how can she convince Edwart to bite her and transform her into his eternal bride, especially when he seems to find girls so repulsive? Complete with romance, danger, insufficient parental guardianship, creepy stalker-like behavior, and a vampire prom, Nightlight is the uproarious tale of a vampire-obsessed girl, looking for love in all the wrong places.
Read an Excerpt | Download Our Discussion Questions for Fiction