John Casey's Compass Rose is "A Full-Throated Celebration"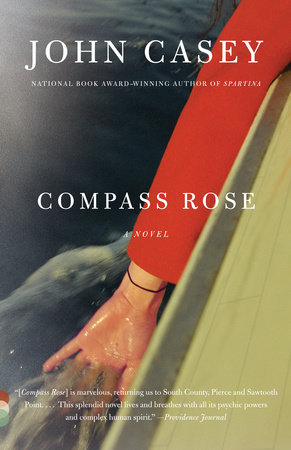 Critics love Compass Rose, John Casey's extraordinary follow-up to the National Book Award-winning Spartina. This powerful family saga is set amid a magical landscape of salt ponds and marshes in Rhode Island's South Country. Named a Best Book of the Year by both The Providence Journal and the Seattle Times, Compass Rose has been called "a full-throated celebration of the natural world" (The New York Times Book Review) and "Breathtaking" (San Francisco Chronicle).
Selected Praise for Compass Rose:
"[Compass Rose] is marvelous, returning us to South County, Pierce and Sawtooth Point…. This splendid novel lives and breathes with all its psychic powers and complex human spirit." —Providence Journal
"Beautiful, elegiac…. Casey's portrayal of…South County is carefully observed, lovingly rendered and delicately parsed—a full-throated celebration of the natural world." —The New York Times Book Review
"Casey can write the thoughts, feelings, emotions, hopes and dreams of women, be they wives, mothers, daughters or lovers, better than anyone." —The Seattle Times
"Each character in Mr. Casey's large cast is gratifyingly complex, and the novel hums with energy." —The Wall Street Journal
"Casey is a brilliant observer…. Breathtaking." —San Francisco Chronicle
"An old-fashioned comfort food novel." —Minneapolis Star-Tribune
"Splendid…. By the end of the book [readers] may well feel as if they themselves had spent several years living in South County. And many such readers, I predict, will be reluctant to leave." —Troy Jollimore, Los Angeles Times
"John Casey luminously celebrates a young woman who is indeed the compass for her fractured family and community…. Rose is a literary rarity—the good and tender-hearted character who is also credible. And Casey has written an affecting story of the way it is—messy, difficult and sometimes radiantly splendid." —The Richmond Times-Dispatch
Click to download our reading group guide.