Knopf Editor Gary Fisketjon on Julian Barnes and The Sense of an Ending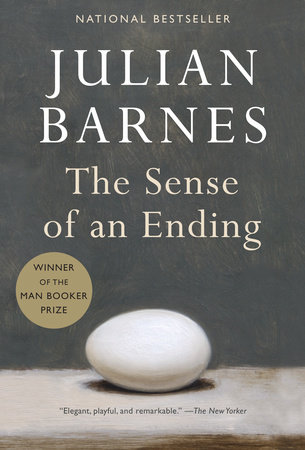 Read an Excerpt / Download Our Reading Group Guide
In this exclusive essay, Knopf editor Gary Fisketjon discusses his relationship with Julian Barnes, whose novel The Sense of an Ending was awarded the 2011 Man Booker Prize for Fiction.
One lesson learned alike by writers and publishers and, yes, readers is that in addition to genius and discipline a generous supply of patience is very useful when it comes to any particular success. Sure, first books can occasionally win a wide readership—witness Jay McInerney, Donna Tartt, and Bret Easton Ellis, to name only three obvious candidates I've been privileged to work with—but an even larger number would feature on any list of writers who had to wait a long and often cruel time for their popularity to catch up with their critical acclaim and in fact their accomplishment. And while the debut that becomes a phenomenon is exciting to witness, no less so is that of a book somewhere down the line that finally breaks an author through, as people in the trade like to say; for relevent examples of this I might suggest Plainsong (Kent Haruf's third novel) or All The Pretty Horses (Cormac McCarthy's sixth). Moreover, some of the best writers from foreign countries are obliged on these shores to be very damn patient indeed, even though by any other measure their mastery has already been acknowledged by our reviewers and booksellers and serious readers, not to mention their publishers.
This, I should say, is only background for a celebration of Julian Barnes's The Sense of an Ending. Though since the early Eighties he has been on anyone's roster of the best contemporary British writers, thanks to Flaubert's Parrot and A History of the World in 10 ½ Chapters and Arthur & George, he'd had sixteen other books put on the market here before the manuscript of this new novel arrived in our offices in the spring of 2011.
But even more background figures in this story. In 1980, on my first business trip to London, I had a meeting with the legendary agent Pat Kavanagh, who represented sterling authors and was married, I was told, to Julian Barnes, who in turn would soon be associated with a generation of young writers including Martin Amis, Ian McEwan, Bruce Chatwin, Salman Rushdie, Kazuo Ishiguro, Redmond O'Hanlon, Christopher Hitchens—really, the list is too long and too distinguished to seem believable at first glance three decades later. They soon would revolutionize writing in the U.K., and the U.S. as well, though it took me a few years to understand as much. By then Julian, whom I was reading at a distance, had become a mainstay on the Knopf list and, for that matter, a great friend of my oldest friend, Jay McInerney, much as he'd been for years with virtually all of his most talented compatriots.
By 1990, when I joined Knopf, I was extremely fortunate to be part of this same great mix, and eventually became Julian's in-house editor, a process every bit as private as it is exhilarating, and his ouvre grew stronger and stronger in the happiest ways imaginable to any publisher. I would see him and Pat whenever I was in London, and in New York and eventually such far-flung locales as Franklin, Tennessee, and McCloud, California. (Never in France, alas, certainly his favorite of a great many destinations.) Friendship develops naturally in the course of this business, in my view, because an intense professional connection implies a personal one as well. I count myself lucky as hell to have been trounced by Julian on his snooker table, and to see him sitting over a chess board opposite my then-young son, and to have traveled so often through life's joys and travails in his company.
And so, to sit at the very computer I'm typing this on and read The Sense of an Ending for the first time—well, it took my breath away, and still does. This seems to me a powerful refutation of the poet and critic Randall Jarrell's famous definition of a novel "as a prose work of a certain length with something wrong with it." Indeed, it's a perfect novel, one that begs to be read in a single sitting and then over again immediately. That's a reaction I've seen or heard about numerous times—and once on three instances involving a single copy in less than twenty-four hours: first with a friend I lent it to on a flight to Heathrow, then with two others once I got into town and handed it over. I hear about it still, now over a year after my first reading, and I trust you might feel exactly this same amazed recognition. Reading this book just a few times seems meager, since its rewards are so manifest and shape-shifting and multiple.
The evidence comes in on a daily basis, with The Sense of an Ending a perpetual feature on bestseller lists from coast to coast and via Google Alerts and e-mails and phone calls. In today's parlance I suppose one would say it has "gone viral." And while the Internet threatens always to deliver more information than anyone could possibly absorb, with much of it false or facile, it's merely a magnification of what publishers used to call "word of mouth," a potent response that encourages people to share their discovery with everyone they know. Obviously this is nothing that can be manufactured, or truly understood, since otherwise publishers (or film and music and television producers) would spend mad amounts of cash in hopes of doing it over and over again. This is, quite simply, what artistic genius alone can provoke—that is, provide—and I'm convinced that in book terms the dynamic hasn't changed much since The Sorrows of Young Werther.
And it goes without saying that to see my dear friend Julian benefit from it—his just reward, after all—gives me (and millions more, I hope) a pleasure and satisfaction that will last a lifetime.