David Guterson Reimagines a Classic In Ed King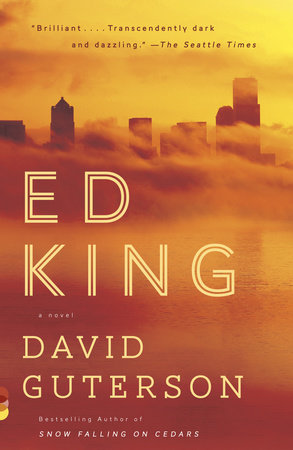 Read an Excerpt | Download the Reading Group Guide.
From the author of Snow Falling on Cedars comes Ed King, a sweeping, propulsive, and darkly humorous new novel that re-imagines one of the world's greatest tragedies—Oedipus Rex—for our own era.
In Seattle of 1962, Walter Cousins, a mild-mannered actuary takes a risk of his own and makes the biggest error of his life: He sleeps with Diane Burroughs, the sexy, not-quite-legal British au pair who's taking care of his children for the summer. When Diane becomes pregnant and leaves their baby on a doorstep, it sets in motion a tragedy of epic proportions. The orphaned child, adopted by an adoring family and named Edward Aaron King, grows up to become a billionaire Internet tycoon and an international celebrity—the "King of Search"—who unknowingly, but inexorably, hurtles through life toward a fate he may have no way of reversing.
The Seattle Times called Ed King "Brilliant…. Transcendently dark and dazzling," while O, The Oprah Magazine praised the book for being "winningly good-natured and almost farcical, all the better to teach timeless lessons about hubris, ambition, and the consequences of long-ago sins."