Video: Jim Lynch On The Writers Who Inspired Him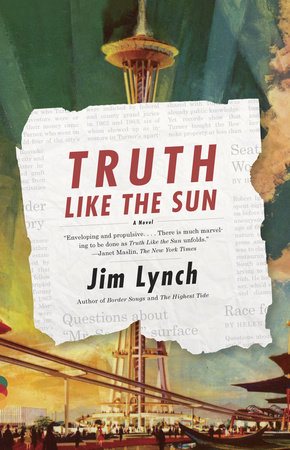 Jim Lynch's latest novel, Truth Like the Sun, is a cat-and-mouse story of urban intrigue set in Seattle both in 1962, when Seattle hosted the World's Fair, and in 2001, after its transformation in the Microsoft gold rush. Larger than life, Roger Morgan was the mastermind behind the fair that made the city famous and is still a backstage power forty years later, when at the age of seventy he runs for mayor in hopes of restoring all of Seattle's former glory. Helen Gulanos, a reporter every bit as eager to make her mark, sees her assignment to investigate the events of 1962 become front-page news with Morgan's candidacy, and resolves to find out who he really is and where his power comes from.
The book is filled with delightful A-List cameos: Elvis, Lyndon B. Johnson, and John Glenn all appear as World's Fair visitors. When we asked Jim to tell us what writers have inspired him throughout his career, he cited a different sort of A-List—one that includes Ken Kesey, Joan Didion, Alice Munro, Ian McEwan, John Steinbeck, and more.
Click to read an excerpt from Truth Like the Sun, and click for book club discussion questions. Want more from our interview with Jim? Click to hear how he came up with the idea for Truth Like the Sun, to find out his thoughts on the state of journalism, and to learn about his writing process.