Beauty Tips from Alexander McCall Smith's The Minor Adjustment Beauty Salon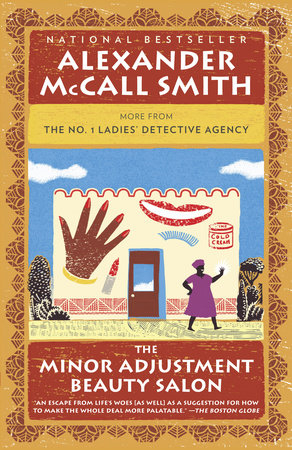 In the fourteenth installment of Alexander McCall Smith's beloved No. 1 Ladies' Detective Agency series, now in paperback from Anchor, Precious Ramotswe has her hands full with two puzzling cases. The first concerns a young man hoping to claim his inheritance at his uncle's farm. The second involves the just-opened Minor Adjustment Beauty Salon, whose business has been disrupted by misfortune, from bad omens in the mail to rumors swirling that its products are dangerous. The salon's proprietor, Mma Soleti, fears someone is trying to put her out of business—but who? Mma Ramotswe will do what she can to unravel the mystery—and save the Minor Adjustment Beauty Salon from ruin. She was, after all, the establishment's very first customer. In this excerpt, while enjoying the beautician's ministrations and learning about skin care, Mma Ramotswe is reflecting on the workings of outer—and inner—beauty.
Click on the image to view and download the excerpt.