7 Modern Rewritings of Literary Classics That Are Perfect for Reading Groups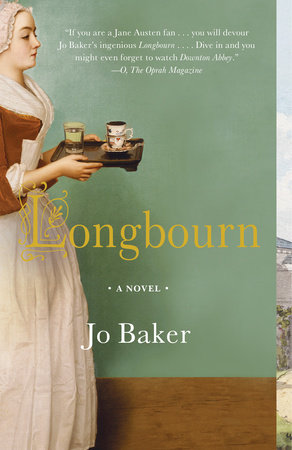 At one point or another, we've all had the same book club dilemma: read classics or opt for contemporary works of fiction that grace the bestseller lists.  Here, we've brokered a compromise by compiling a list of can't-miss modern retellings of masterpieces by the likes of William Shakespeare, Jane Austen, and Virginia Woolf. Enjoy!
Longbourn by Jo Baker (Pride and Prejudice)
Move over, Elizabeth Bennet! The servants take center stage in Jo Baker's Longbourn, now in paperback from Vintage, an irresistibly imagined below stairs answer to Pride and Prejudice. While Elizabeth and her sisters fuss over balls and husbands, Sarah, their orphaned housemaid, is beginning to chafe against the boundaries of her class. Through her, Jo Baker has given the help a voice—and  a sassy, delightful one at that!
A Thousand Acres by Jane Smiley (King Lear)
Three Sisters. Their recalcitrant father. One inheritance. That's the premise of William Shakespeare's classic tragedy King Lear as well as Jane Smiley's ambitious modern-day retelling set in the cornfields of Iowa. Taking on the themes of truth, justice, love, and pride, the Pulitzer Prize winner A Thousand Acres reveals the beautiful yet treacherous topography of the human heart. Not to mention that it's been voted one of the best books for reading groups!
One Thousand and One Nights by Hanan al-Shaykh (One Thousand and One Nights)
"I wanted desperately to escape the world [One Thousand and One Nights] evoked. But Shahrazad found her way to me." The Arabic classic fired up Lebanese author Hanan al-Shaykh's imagination, provoking her to retell nineteen of the mesmerizing One Thousand and One Nights stories in a new way. Weaving an utterly intoxicating collection, rich with humor, violence, and romance, she tweaks the familiar stories, giving them an illuminating, feminist spin.
Wide Sargasso Sea by Jean Rhys (Jane Eyre)
Jane Eyre fans don't usually give Mr. Rochester's first wife much thought—beyond the fact that she's in the way! Jean Rhys imagines the life story of Brontë's monstrous madwoman in the attic in the seminal Wide Sargasso Sea—from her childhood days in the Caribbean to her unhappy marriage to one English gentleman, to revisiting certain blood-curdling scenes in his mansion's attic. Fair warning: you might switch allegiances from team Jane after finishing the book!
The Hours by Michael Cunningham (Mrs. Dalloway)
The Hours is another Pulitzer Prize winner—and a must-read for Virginia Woolf fans. The narrative of Woolf's last days before her suicide early in World War II counterpoints the fictional stories of Samuel, a famous poet whose life has been shadowed by his talented and troubled mother, and his lifelong friend Clarissa, who strives to forge a balanced and rewarding life in a way that's marvelously reminiscent of Mrs. Dalloway. Cunningham writes with a deep understanding of Woolf's literary powers—and her presence in the book looms on every page.
Foe by J. M. Coetzee (Robinson Crusoe)
What if the story of the most famous English castaway had the seeds of truth in it? That's the premise behind J. M. Coetzee's 1986 novel Foe, an ingenious reinvention of Daniel Defoe's eighteenth-century classic Robinson Crusoe. In a surprising twist, we learn about a third survivor who landed on Robinson and Friday's desert island after a ship wreck: Sarah Barton. Upon her return to England, she attempts to enlist fictional novelist Daniel Foe to commit her life story to paper—but it all goes horribly wrong when he writes her out of the tale altogether. Bringing to the light characters from the margins—a female adventurer and a former slave—the Nobel Prize laureate demonstrates that who tells the story is as important as the story itself.
The Penelopiad by Margaret Atwood (The Odyssey)
Margaret Atwood takes on Homer in The Penelopiad, a provocative re-imagining of the ancient myth of Odysseus from the point of view of the hero's wife, Penelope. After the ten-year Trojan War and ten years spent in captivity and high-seas adventures, Odysseus finally finds his way home. At the same time, his dutiful wife Penelope is warding off suitors who are competing for her hand—and her husband's throne.  In her radical rewriting, Atwood tries to answer the very questions that baffled her when she read Homer's epic poem: what led to the hanging of the famous twelve maids, and what was Penelope really up to?