Armchair Adventurer: The Real-life Socialist Utopia of Jonathan Lethem's Dissident Gardens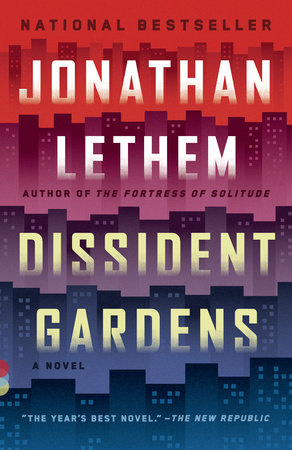 The title of Jonathan Lethem's bestselling novel Dissident Gardens, an epic yet intimate family saga, was inspired by a little-known neighborhood in the heart of New York City: Sunnyside Gardens. To fully immerse ourselves in the story and understand its colorful characters, we must look at the fascinating history of Sunnyside Gardens, which Lethem refers to as "the official Socialist Utopian Village of the outer boroughs" (p. 14).
Known for being one of the first planned communities in the United States, Sunnyside Gardens was infused with socialist principles from the start. In 1924, architect Clarence Stein and landscaper Henry Wright were commissioned to design a residential complex on a 77-acre plot in the western portion of the borough of Queens. Borrowing from German architects' vision of a garden city, they conceived a layout with clusters of narrow rowhouses and apartment buildings around shared courtyard gardens—with the buildings taking up only 28 percent of the site. The design plans aspired to a bold new paradigm in urban development, combining the virtues of affordable housing and extensive green spaces within the city to be enjoyed by all: "a humane environment grounded in deep theory" (p. 14). Indeed, in the neighborhood's early days, the unique architecture fostered a sense of community unusual for New York City, with residents meeting for group activities and "neighbors venting their lives one to another across a shared commons" (p. 14). It is no surprise that the Gardens became a mecca for the New York communist movement, or that it attracted a large number of artist and writer couples from Lower Manhattan, earning the nickname "the maternity ward of Greenwich Village." Urban planner Lewis Mumford—a longtime Sunnyside Gardens resident—reveled in the neighborhood's vast potential for "a robust political life, with effective collective action and a sense of renewed public responsibility."
The communal spirit of the Gardens was put to the test, however, when a great number of residents lost their homes to foreclosure during the Great Depression. Later, during the McCarthy era, many were hounded by the government for their leftist leanings. In the '60s, the shared green spaces fell into disrepair, and some Sunnyside Gardeners fenced off portions of land, raised walls or terraces, and disregarded rules about using shared space for personal use. Since the city declared Sunnyside Gardens a Special Planned Community Preservation District in 1974, there have been great strides in protecting the original architecture and restoring the neighborhood's community character—albeit no longer overtly political—to its former glory.
Sunnyside Garden's socialist heritage may now be a thing of the past, but it comes alive on the pages of Jonathan Lethem's Dissident Gardens. Pick up a copy of the book and picture Lethem's indomitable heroine, Rose—aptly nicknamed the Red Queen of Sunnyside—walking down the tree-lined streets and tirelessly spreading her "dissident" ideas.