Q&A: Kate Alcott on Courageous Women, Class Boundaries, and the Lessons of History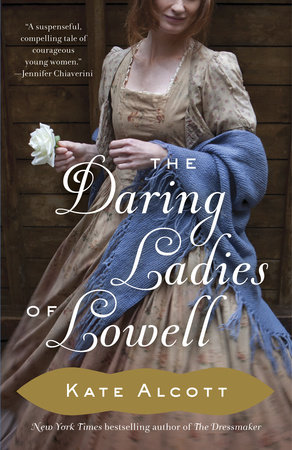 Bringing extraordinary heroines to life is one of historical novelist Kate Alcott's signature gifts. Her New York Times bestseller The Dressmaker features a spirited young seamstress who survives the sinking of the Titanic, and the women of her latest work, The Daring Ladies of Lowell, are no less inspiring. Against the turbulent backdrop of a New England textile mill during the American Industrial Revolution, Alcott weaves a sweeping tale about love, loyalty, and the enduring power of friendship. We spoke with Kate Alcott about her "daring ladies," and what compelled her to write about this particular slice of American history.
Reading Group Center: The story in The Daring Ladies of Lowell is fictional, but the bones of it are true: the murder of a mill girl caused an uproar in New England in 1833. Will you talk about the inspiration behind the novel?
Kate Alcott: It's a two-part answer. What drew me to this story first was reading about the murder of a particular mill girl in the 1830s—and the trial that followed. It was one of the first examples that I knew of where a sad and haunting reversal took place—the defense turned the female victim into the villain. That theme weaves in and out of our judicial system. So there was something about this particular free spirit—Sarah (I named her Lovey) Cornell—that prompted me to want to give her a voice.
The second draw was an enormous change taking place in this early part of the nineteenth century: new opportunities for women. Mill work in New England was one of the first avenues open to them for employment that promised some measure of independence. They worked horribly long hours under bad conditions, but their voices came through loud and clear—they read, they wrote, they saved, and provided money for their brothers to go to college. For a short period of years, the model for drawing these women off the farms and into the mills was a proud route to a better life.
RGC: Lovey proves to be quite the free thinker among the factory workers of Lowell. She wished for better pay and improvements to the dismal working conditions, and to do that she knows she must change the conversation. "They don't take us seriously," she says. "All we are to anybody are 'the mill girls,' and I think that should change. Why can't we be daring ladies?" Can you talk about Lovey's activism and how it plays into the title of the novel?

KA: Daring ladies take chances. They question the established order. That may involve taking a small step or a big step, but it is usually one that takes a fair amount of courage. In my story, Alice, the novel's heroine, takes her inspiration from Lovey: Lovey lost her life challenging the mores of her culture. Alice saw the injustice of their lives as workers and confronted it.
RGC: How are the actions of the daring ladies of nineteenth-century Massachusetts relevant to women today?
KA: We live now in an era when women are being told to stand up and lean in. They have voices, but it is still a struggle to be heard. Lovey and Alice are role models from a much earlier era when it was far harder to be brave.
RGC: Imagine you're part of a book club discussing The Daring Ladies of Lowell! What is a topic or question you'd like to pose to the group?
KA: I like that question. I would say, "Does this book make you think more about the ways women who challenge are still turned into villains?" And as a second question: "What do you think about the relationship between Alice and Samuel? Some people say it was impossible for lovers to bridge class gaps as great as theirs at that time in history. Do you agree or disagree?" I would hope to stimulate a discussion of how class boundaries evolve and change. It intrigues me that women who worked in the mills were changing their opportunities and beginning to step away from the inevitability of limited lives. They were becoming educated and beginning to move upward as teachers, nurses, and writers. Those were their bridges to closing the class gaps. What others would these hypothetical book club members identify?
RGC: In your next novel, A Touch of Stardust, you take readers behind the scenes of the filming of Gone with the Wind, and focus on the passionate romance between actors Clark Gable and Carole Lombard. What has the transition been like from writing about Lowell's mill girls to this very different period in American history, Hollywood's glamorous 1930s. Are the two projects similar in any way?
KA: Yes, in one sense. In each story I try to give voice to a free spirit whose grit and style sets the stage for the main character. The reckless spirit of Lovey Cornell flames up again in the jaunty actress, Carole Lombard, who, for me, jumped out of the pages of old Hollywood. Alice and Julie—each the main character of the two books—lived a century apart, but I think they would have understood each other. They were both questing to find a woman's place in an evolving society.
I grew very attached to these women and found myself caring deeply about how they made their own lives. And you know what? I miss them. It was fun to bring them alive for a new generation of women, and hard to say goodbye.