A Note from Mona Simpson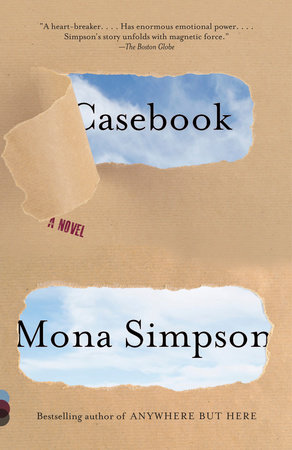 Here at the Reading Group Center, fostering the connection between readers and writers is an essential part of what we do. Sometimes it comes in the form of phone chats or online interviews, but just as often it's a special note that we ask the author to write, providing exclusive insight into their work. Generously, our authors devote their time and energy to fulfilling these requests, and the results never fail to amaze us. When we recently asked Mona Simpson to share some insight about her latest novel, Casebook, we knew it would be special, but what we got went well beyond—an interesting essay that probes the inner conflict a writer feels when they're asked to tell the "story" of their story.
I experienced writer's block for the first time, not after publishing a novel or during the beginning attempts to take on difficult, fictional material, but when I received a request from the Reading Group Center to write a piece for their website. But I have a history with book clubs. I once started a Shakespeare club, which lasted a decade, only to fall apart when one of the group's two bachelors met and in a weekend decided to marry the other's ex. For a summer, I was a card-carrying member of an Old Testament group. Friends and I have hired scholars for ad hoc Jane Austen sessions and, on a lark, for a Dracula Study Halloween night. If I had my way, I'd make the discussion of "The Dead" we once had at a holiday party an annual tradition, adding a staged reading of the story. I'm now in an ongoing book club that includes a museum curator, a Rabbi, a public radio executive, a chef, an anthropologist, a movie director, a screenwriter, and a studio executive (this is a book club in Los Angeles). I understand the joys and frustrations of reading communally (half my club's members did not get what was the "big deal" with Alice Munro). Since then, we've read mostly nonfiction, including a book on network theory, the health care system, and most notably, the brilliant Thinking Fast and Slow by Daniel Kahneman, which I may have never discovered otherwise. I believe the research that claims being a member of just one group, even one that meets seldomly, improves daily happiness.
Still, trying to write an essay about my most recent novel, Casebook, to share with book clubs on the Reading Group Center website, I found myself in the grip of an aversion. I made stray starts, then closed the file. I began to avoid communication with the RGC. My deadline came and passed.
A psychologist I once went to for advice on parenting told me that there were two kinds of talented mothers; those good with very young children, who relished floor play and goofiness, and those who came alive only when their offspring were old enough for intellectual discussion over dinner.
There may be an analogy with writers. There are writers who love the floor play of novel writing: the long days at home in sweats at the kitchen table moving characters around, fooling with sentences and punctuation marks, looking up words and their cognates and endlessly redoing timelines. And then there are writers who enjoy PUBLICATION, that indeterminate public period of readings, parties, blow-dries, questions and answers, and having one's picture taken.
As every mother knows, wherever her talents and preferences may lie, she must do her best to support her children through all stages of their lives. The mother in a suit and heels will awkwardly arrange herself on the floor and attempt to make sense of the build and demolish logic of her child's block structures, and mothers who love toddlers struggle to let their teenagers separate from them. So it is with writers too; writers who love the public still must stay home and write the book before it can be celebrated, and writers who'd prefer to stay forever on the workshop floor are compelled to try and help their publishers gain a readership for the book. Unless you're Elena Ferrante, the Italian author of the great Neapolitan novels who has never appeared in public and whose real name is not Elena Ferrante. (And what shy writer, having devoured Those Who Leave and Those Who Stay, does not wish she had, early on, decided to live anonymously and publish under a pseudonym?)
Sooner or later, most writers, even those who are nervous speaking in front of crowds, who don't photograph particularly well, and who aren't pithy on social media, find themselves in the awkward position of vegetable peel hawker, trying to entice innocent readers into giving their novel, rather than the other forty-two thousand nine hundred and ninety-nine, a try.
The writer in public, telling a story, or his or her story, is not a new idea. The world's first storytellers were oral performers. And some fiction writers have always had gifts in that vein. Mark Twain was a nineteenth century forerunner of stand-up comedy; he was in great demand as a speaker, and performed for pay at many men's clubs, including the Authors' Club, Beefsteak Club, Vagabonds, White Friars, and Monday Evening Club of Hartford. Charles Dickens gave impassioned readings from his work. In our time, we have Allan Gurganus, who is a talented performer of his own work, and of course David Sedaris, who, I learned while doing an event with him at UCLA, gives readings with a pen, making notes in the margins at the big laughs and the lines that fall flat. He revises that night in his hotel accordingly.
But not every writer is the best spokesperson for his or her own work. John Updike said his ideal reader was a third grader in a public library, which suggests a kind of private exchange, not person to person, but sensibility to sensibility, the book itself being the message in a bottle.
Henry James suffered on his long lecture tour of the States, and felt grateful to William Dean Howells, the vastly more successful writer who'd given him the critical advice to prepare a talk in advance. In Los Angeles, eight hundred ladies came to hear him lecture on Balzac. And yet, he had the "sense of how it's not the age of my dim trade." He was right, in a way. Despite his lecturing, despite the eight hundred ladies, James's books (his children) did not find an audience during his lifetime. But, unlike the fate of Howells's fiction, James's novels and short stories have gathered their audiences over time, so that now, ninety-nine years after his death, there's a Henry James Society, a Henry James Review, a Henry James London walking tour, even a Facebook page, not to mention the numberless devoted readers throughout the Anglophone world.
Once, on my first book tour for my first novel, someone had the idea that after a stop in Iowa City, (home of the Iowa Writer's Workshop where fiction feels like daily sustenance for the population and readings at Prairie Lights Bookstore always draw a good crowd), I should visit Cedar Rapids, a city less than an hour away. There, in a Barnes & Noble, stationed behind a card table with copies of my books from one o'clock to four o'clock, I felt—for the first time—like the vegetable peel salesperson, with nothing to demonstrate, no vegetables to peel. People came by, idly picked up the book, paged through it and put it down again. The only person who stuck around to talk was a fifth grader who was conducting an interview for a school report.
Then again, the fifth grader's questions were to the point and resonant.
Were you a good student?
How do you get your ideas?
Are your books true stories?
Why do you write them?
Do you make a lot of money?
What kind of hours do you keep?
What types of tasks do you spend most of your time doing?
What are the most frustrating parts of this career?
Do you have any advice on how people interested in this career should prepare?
Why should people buy your book?
After the student left, I still had two hours to go. I thought of taking out a pen and amending the sign announcing me and my novel, writing MONEY BACK GUARANTEED. But then I remembered, as my royalties were only twenty percent of the purchase price, this could be a dangerous slide.
We all genuinely hope people will get something from the books we write. They are—after all—meant to be gifts, gifts in return for what we've received and learned from other books written by people we didn't know.
But not every gift is cherished.
Certainly, parents know that already. And the most talented mothers, like the steadiest writers, need to trust time to reveal the value of the work they've done.