Digging Up the Past in The Buried Giant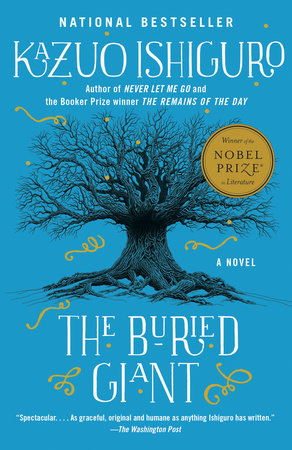 Kazuo Ishiguro is one of the most respected fiction writers of our time. A decade has passed since the release of his last novel, the acclaimed bestseller Never Let Me Go, so we at the Reading Group Center are especially excited about his latest work. In The Buried Giant Ishiguro tackles questions of love, vengeance, and the power of memory. His two main characters, Axl and Beatrice, embark on an epic journey to uncover the secrets of their own past. Setting out to find the son they can't quite remember, they encounter colorful characters across the ruined landscape of medieval England, and gradually rediscover their love for each other. In an interview for NPR, Ishiguro explains what inspired him to write this story, how songwriting has influenced his novels, and why it is important to question the reliability of memory at both the individual and collective level.
"What happened to me was that for well on about fifteen years now I've had this idea of writing a story about historical memory, or societal memory. The question of how do societies remember and forget, particularly their dark secrets, or their dark memories…. Exactly the same questions that fascinate me about a society that buries memories of past atrocities seem to apply to a marriage."
Click on the player below to listen to the full NPR interview.