Uncovered: A Look Inside the Design Process for Half a Lifelong Romance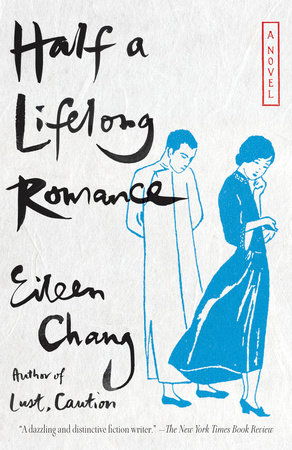 Half a Lifelong Romance is a sweeping tale of star-crossed lovers battling the twists of fate determined to keep them apart. Set against the glittering backdrop of 1930s Shanghai, this novel is the perfect choice for any book club looking for a historical romance that feels distinctly modern. Originally published nearly fifty years ago, the book is now available in English in the United States for the first time. In this interview, we chat with Linda Huang who designed the eye-catching cover for the U.S. edition. Read on for fascinating details on the backstory!
Reading Group Center: Hi Linda! Thanks so much for taking the time to answer some of our questions about design and your stunning cover for Half a Lifelong Romance by Eileen Chang. How do you usually begin when you're designing a cover?
Linda Huang: I begin by learning as much as possible about the book—reading it, researching the author, looking at similar titles, reading reviews, understanding the book's cultural context, and considering any marketing strategies. As I'm reading the book, I jot down anything that strikes me, whether it's a recurring theme, motif, or metaphor. I allow myself to bask in the feeling of reading the book as I consider the subject matter. For a designer, the tone of the book is extremely important as it determines how an idea is executed and therefore the intended audience. There is no single process by which these ideas surface, but I try to write down words that capture the overall themes of the book and modes of executing them (is it a photo, illustration, or collage?) before moving onto quick thumbnail sketches that show compositions and ideas.
RGC: How did you begin when designing the cover for Half a Lifelong Romance?
LH: I was vaguely aware of Eileen Chang but had never read any of her books. I had only seen Ang Lee's film adaptation of Lust, Caution. I was really excited to be working on this project and began by researching the author's background and legacy, trying to understand the defining characteristics of her writing. Although she died some two decades ago, she retains a devoted following in Hong Kong, Taiwan, and among the Chinese diaspora.
In positioning the author, my goal was to signal her importance while trying to convey the tone of her writing. I wanted to differentiate it from the UK paperback, which uses a stock photo of a woman wearing chinoiserie. Because of Chang's legacy, I felt like there was more room to play and experiment visually. I became attracted to the idea of using a mao bi (a Chinese calligraphy brush) to hand letter the text. I am no expert at hand lettering so this took some practice! Aside from obviously connoting "Chinese literature," I wanted the lettering to be imbued with a sense of passion, perhaps even a sense of (legible) desperation.
RGC: The cover for Half a Lifelong Romance features an illustration by the author Eileen Chang. How did you discover this image?
LH: When I was doing research, I came across a YouTube video introducing her life story. It featured these wonderful illustrations of characters she had drawn herself. They were completely legitimate. I thought how special it would be to use art by the author herself. Through a lot of Googling, I came across a book of these illustrations from a shop in Hong Kong and asked my mother, who lives there, to purchase a copy and mail it over.
As a backup, I also tried illustrating my own characters, using film stills from Wong Kar-Wai's In the Mood for Love; both he and Chang explore similar themes and share a brooding tonal quality.
In the end, not surprisingly, the cover featuring Chang's own illustration was chosen—it just seemed more conceptually fitting.
RGC: Is the process of designing a cover different when you're working on a "classic" as opposed to a contemporary writer?
LH: Yes, I think when you're working on a classic, you are usually making broader gestures and building on the audience's familiarity with that author. This is especially true for series designs, which is probably the most common platform in which we publish classics. You identify the general mood, themes, and broader cultural context, and create a simple visual moment to evoke that.