Characters Come First: Meg Mitchell Moore on Her Inspiration for The Admissions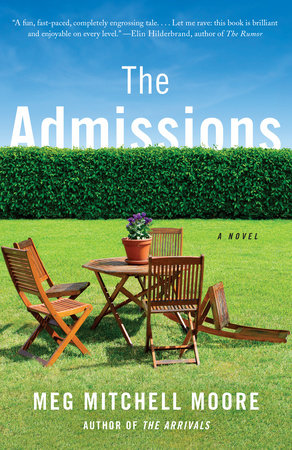 Described as "brilliant and enjoyable on every level" by bestselling author Elin Hilderbrand, The Admissions is Meg Mitchell Moore's humorous third novel. It's the story of the Hawthorne family, who—at least from the outside—appear to have it all. Nora and her husband, Gabe, have thriving careers and three charming daughters, the eldest of whom, Angela, is applying to Harvard. But the family soon finds their lives unraveling; Angela is buckling under the pressure, Nora's job is in jeopardy, and Gabe finds himself getting distracted by the new intern at work. It doesn't take long for their seemingly perfect world to begin crumbling at their feet.
We asked Meg Mitchell Moore to tell us a little bit more about what inspired her to write a book about college admissions (among other things). Keep reading to learn more about her writing process and how characters like Angela come to be.
When I write a novel, I never start with a plot. When I began The Admissions, I didn't say, "I want to write a novel about college admissions!" or, "I want to write a novel about secrets!"  Always for me the characters come first, usually at the same time as the setting, sometimes—but not always—along with some vague idea of the situation the characters are in. And the plot flows from there.  Actually, "flows" is sort of a euphemism for what really happens—I should say that I wrench the plot out along the way with a lot of pain and hard work and advice from my agent and editor.
My family moved from Massachusetts to California (an area known as the East Bay, about thirty miles east of San Francisco) for my husband's job in the summer of 2012. We lived there for a year, and the whole time we were there I was working on a different book, which was set in Maine. For a lot of reasons that book wasn't quite working, but I kept plugging away at it anyway. Then, at some point during the end of that year, I started writing about Angela Hawthorne, a seventeen-year-old high school student in Marin County, California, who became one of the main characters in The Admissions. In fact, my first-ever image of Angela is very similar to what became the first chapter of the book: a high school senior sitting at the desk in her bedroom one September evening after dinner, with hours to go before she's done with her homework. I didn't know who she was or why she was there, but I knew that she was overwhelmed, overtired, and completely stressed out, and I knew that there were some serious expectations resting on her slender shoulders.
I had to keep writing to find out more. By this time we were organizing our move back to Massachusetts, including selling a home in a competitive housing market, so the zany world of California real estate became a big part of the book.  Once we were settled back in Massachusetts, the other members of the Hawthorne family—and their individual secrets—came into better focus. It seemed like I had to have the geographical distance of living in California to understand these fictional residents I had created.
If anyone asks me the question, "Why did you decide to write a book about college admissions?" my answer is always, "I didn't. I decided to write a book about this girl, Angela Hawthorne, and it so happened that she was applying to college when I was writing about her." The college admissions process, especially for a certain group of today's high school students who excel at rigorous schools and who are battling for the spots at top colleges, is rife with drama and conflicts and expectations; in other words, it turned out to be a wonderful arena in which to set a book.
After I'd been working on The Admissions for a couple of months, I spoke to my agent and told her I thought I needed to write this book instead of the other book I'd been working on. That was a big decision for me, but ultimately it proved to be the right one. I am now (finally!) finishing up the book set in Maine, which will be published next year as my fourth novel.
—Meg Mitchell Moore