Celebrating Mary Gaitskill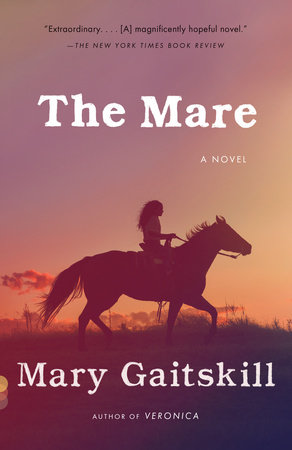 In honor of the paperback publication of The Mare by Mary Gaitskill, we're celebrating the author's incredible contributions to the world of letters. Gaitskill's work has appeared in such distinguished publications as The New Yorker and Harper's Magazine. Her first book was the short-story collection Bad Behavior, a powerful selection of narratives set in Manhattan's Lower East Side. Since that time, Gaitskill has continued to captivate readers with her keenly emotional work. Her 2005 novel, Veronica, was a National Book Award finalist, and cemented Gaitskill's reputation as a writer with a gift for depicting all manner of human connections. You and your book club cannot go wrong with a Gaitskill selection, but we recommend you start with one of the four titles below.
The Mare (2015)
 One of the Best Books of the Year: The New York Times, The Washington Post, NPR
In The Mare, Gaitskill illuminates the shifting relationships between a child and the adults in her life over the course of several years. When Velveteen Vargas, an eleven-year-old Fresh Air Fund kid from Brooklyn, comes to stay with a family in upstate New York, what begins as a two-week visit blossoms into something much more significant. Soon Velvet finds herself torn between her host family and her own deeply tormented mother. The one constant becomes Velvet's newly discovered passion for horseback riding, particularly for an abused and unruly mare named Fugly Girl.
Read an excerpt | Get the reader's guide
---
Don't Cry (2009)
In this luminous collection of stories you will meet a wide variety of characters, including young people adrift in Ann Arbor at the start of the Reagan era who debate the meaning of personal strength; a young man who steals a girl's soul during a one-night stand; and a woman haunted by the death of her former husband, and who is finally able to grieve through a mysterious encounter with a needy child.
---
Veronica (2005)
A National Book Award Finalist
Alison and Veronica meet amid the nocturnal glamour of 1980s New York: one is a young model stumbling away from the wreck of her career; the other is an eccentric middle-aged office temp. Over the next twenty years their friendship will encompass narcissism and tenderness, exploitation and self-sacrifice, love and mortality.
Read an excerpt | Get the reader's guide
---
Bad Behavior (1988)
Set in Manhattan's Lower East Side and peopled with working-class drug addicts, intelligent hookers, stable housewives, smug yuppies, and sensually deprived professionals, Bad Behavior depicts a cruel and tender world where romance and modern perversity go hand in hand. Gaitskill delivers powerful stories of dislocation, longing, and desire that depict a disenchanted and rebellious urban fringe generation groping for human connection.