6 Escapist Reads to Help You Avoid Politics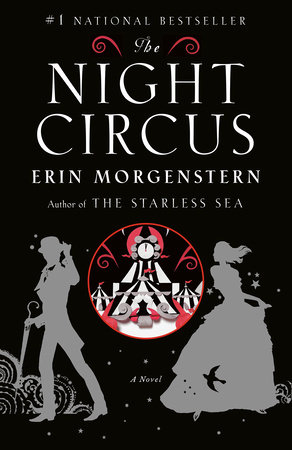 With only a couple weeks left until the presidential election, you may be experiencing extreme campaign coverage burnout. Red state or blue state, we bet your TV has been overtaken by political ads, stump speeches, and poll numbers. Of course, we're all for political engagement, but sometimes you need a little break from the spectacle. To help you out, we've compiled a list of excellent reads featuring magic, adventure, and dystopian futures that will draw you into well-imagined worlds far, far from the politicians.
The Night Circus by Erin Morgenstern
"Morgenstern's exquisitely realized world will have [you] wishing to run off and join the circus." —USA Today 
Within the black-and-white-striped canvas tents of Le Cirque des Rêves is an utterly unique experience full of breathtaking amazements. But behind the scenes, a fierce competition is under way: a duel between two young magicians, Celia and Marco, who have been trained since childhood expressly for this purpose by their mercurial instructors. Unbeknownst to them both, this is a game in which only one can be left standing. Despite the high stakes, Celia and Marco soon tumble headfirst into love, setting off a domino effect of dangerous consequences and leaving the lives of everyone, from the performers to the patrons, hanging in the balance.
Read an excerpt | Get the reader's guide
---
Station Eleven by Emily St. John Mandel
"Deeply melancholy, but beautifully written, and wonderfully elegiac. . . . A book that I will long remember, and return to." —George R. R. Martin
A finalist for both the National Book Award and the PEN/Faulkner Award, Emily St. John Mandel's stunning novel opens with a production of King Lear on the same night a fast- moving flu epidemic sweeps into the city. Within weeks, civilization has crumbled. As the story moves between life before the collapse and the glittering world that exists after it, we begin to see the strange twist of fate that connects each of the characters. Thrilling, audacious, and told in spellbinding prose, Station Eleven is a book to savor.
Read an excerpt | Get the reader's guide
---
"Unforgettable. . . . Clark's magic is in creating places that will linger with you, and make you long for the sea as if you, too, were spawned from an ancient whaling family." —Chicago Tribune
Mercy, fifteen years old, is the last of the Rathbone whaling clan. Her father has been lost at sea for nearly ten years—ever since the last sperm whale was seen off the coast of Connecticut. As Mercy's memories of her father grow dimmer with each passing day, she spends more of her time in the attic hideaway of her reclusive cousin Mordecai. But when a strange and threatening visitor turns up one night, Mercy and Mordecai are forced to flee and set sail on a journey that will bring them deep into the haunted history of the Rathbone family.
Read an excerpt | Get the reader's guide
---
Never Let Me Go by Kazuo Ishiguro
"A page turner and a heartbreaker, a tour de force of knotted tension and buried anguish." —Time
As children, Kathy, Ruth, and Tommy were students at Hailsham, an exclusive boarding school secluded in the English countryside. It was a place of mercurial cliques and mysterious rules where teachers were constantly reminding their charges of how special they were. Now, years later, Kathy is a young woman. Ruth and Tommy have reentered her life. And for the first time, she is beginning to look back at their shared past and understand just what it is that makes them special—and how that gift will shape the rest of their time together.
Read an excerpt | Get the reader's guide
---
"Absolutely irresistible. . . . A suspenseful, deeply haunted book. . . . A marvel." —The New York Times
Thirteen-year-old Ava Bigtree has lived her entire life at Swamplandia!, her family's island home and gator-wrestling theme park in the Florida Everglades. But when illness fells Ava's mother, the park's indomitable headliner, the family is plunged into chaos: her father withdraws, her sister falls in love with a spooky character known as the Dredgeman, and her brilliant big brother, Kiwi, defects to a rival park called the World of Darkness. As Ava sets out on a mission through the magical swamps to save them all, we are drawn into a lush and bravely imagined debut novel that takes us to the shimmering edge of reality.
Read an excerpt | Get the reader's guide
---
"Many books are said to be like nothing else, and aren't, but Brian Catling's really is." —Philip Pullman, The Guardian
Next to the colonial town of Essenwald sits the Vorrh, a vast—perhaps endless—forest. It is a place of demons and angels, of warriors and priests. Sentient and magical, the Vorrh bends time and wipes memory. Legend has it that the Garden of Eden still exists at its heart. Now, a renegade English soldier aims to be the first human to traverse its expanse. Armed with only a strange bow, he begins his journey, but some fear the consequences of his mission and a native marksman has been chosen to stop him. Around them swirl a remarkable cast of characters, including a cyclops raised by robots and a young girl with tragic curiosity, as well as historical figures, such as writer Raymond Roussel and photographer Edward Muybridge.  While fact and fictional blend, and the hunter will become the hunted and everyone's fate hangs in the balance under the will of the Vorrh.