Setting as Character: 8 Books About Small Towns for Your Book Club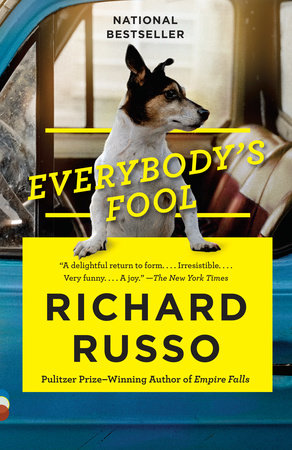 Though big cities may be the setting of many a novel on a bookstore shelf, America is comprised of towns that look and feel far different from the big city. However, life in rural areas doesn't mean a lack of complications and each of these small towns is a microcosm of human emotion and complexity, leaving much to discuss in a book club meeting. From the dying rust belt town of North Bath, New York, with its uncanny geography and quirky citizens in Everybody's Fool, to the "Athens of the Midwest," a college town that forces a boutique potato farmer's daughter and a Sufism course into the same story in A Gate at the Stairs, each of these small towns comes to life as a character in their own right. 
Everybody's Fool by Richard Russo
"A delightful return to form. . . . Irresistible. . . . Very funny. . . . A joy." —The New York Times
In these pages, Richard Russo to North Bath, the rust belt town first brought to unforgettable life in Nobody's Fool. Now, ten years later, Doug Raymer has become the chief of police and is tormented by the improbable death of his wife—not to mention his suspicion that he was a failure of a husband. Meanwhile, the irrepressible Sully has come into a small fortune, but is suddenly faced with a VA cardiologist's estimate that he only has a year or two left to live.
As Sully frantically works to keep the bad news from the important people in his life, we are reunited with his son and grandson . . . with Ruth, the married woman with whom he carried on for years . . . and with the hapless Rub Squeers, who worries that he and Sully aren't still best friends. Filled with humor, heart, and hard-luck characters you can't help but love, Everybody's Fool is a crowning achievement from one of the great storytellers of our time.
Read an excerpt | Get the Reader's Guide
---
The Arsonist by Sue Miller
"Entertaining. . . . Fantastic sizzle, both sexual and spiritual. . . . A cracking good romance." —The Boston Globe
After fifteen years working in East Africa, Frankie Rowley returns to the New Hampshire village where her family has always spent their summers. But the tranquility she's expecting proves short-lived when, on the very night she arrives, a mysterious arsonist begins targeting the homes of other summer residents. As this seemingly idyllic community becomes increasingly on edge, Frankie also has to deal with her father's declining health—and begins a passionate affair with the editor of a local paper that will yield its own remarkable risks and revelations. Suspenseful, sophisticated, and finely wrought, The Arsonist is an artfully nuanced and deeply emotional novel about a family and a community tested, about how and where one ought to live, and about what it means to lead a fulfilling life.
Read an excerpt | Get the reader's guide
---
A Gate at the Stairs by Lorrie Moore
"Profound. . . . Get ready to expand your sense of what [Moore]—and a novel—can do." —The Washington Post Book World 
Twenty-year-old Tassie Keltjin, the daughter of a gentleman farmer, has come to a university town as a student. When she takes a job as a part-time nanny for a mysterious and glamorous family, she finds herself drawn deeper into their world and forever changed. Told through the eyes of this memorable narrator, A Gate at the Stairs is a piercing novel of race, class, love, and war in America.
Read more| Browse discussion resources
---
O Pioneers! by Willa Cather
One of America's greatest writers, Willa Cather established her talent and her reputation with this extraordinary novel—the first of her books set on the Nebraska frontier. A tale of the prairie land encountered by America's Swedish, Czech, Bohemian, and French immigrants, as well as a story of how the land challenged them, changed them, and, in some cases, defeated them, Cather's novel is a uniquely American epic.
Read more| Browse discussion resources
---
Jernigan by David Gates
"Mr. Gates has created one of recent literature's most memorable anti-heroes, and . . . established himself as a novelist of the very first order." —The New York Times
From Holden Caulfield to Moses Herzog, our best literature has been narrated by malcontents. To this lineage add Peter Jernigan, who views the world with ferocious intelligence, grim rapture, and a chainsaw wit that he turns, with disastrous consequences, on his wife, his teenaged son, his dangerously vulnerable mistress—and, not least of all, on himself. This novel is a bravura performance: a funny, scary, mesmerizing study of a man walking off the edge with his eyes wide open—wisecracking all the way.
Read more| Browse discussion resources
---
Chestnut Street  by Maeve Binchy
"Chestnut Street has everything that makes Binchy special, in small, delicious bites." —NPR
Chestnut Street is a place in Dublin where neighbors come and go. Behind their doors, we encounter very different people with different life circumstances, occupations, sensibilities—and stories.Imagined with the humor and understanding that are hallmarks of Maeve Binchy's work, this world charms us as we discover its joys and sorrows, get to know the good and the bad, and have our hearts warmed by her storytelling.
Read an excerpt | Get the reader's guide
---
Plainsong by Kent Haruf
"A novel so foursquare, so delicate and lovely . . . it has the power to exalt the reader." —The New York Times Book Review
In the small town of Holt, Colorado, a high school teacher is confronted with raising his two boys alone after their mother retreats first to the bedroom, then altogether. A teenage girl—her father long since disappeared, her mother unwilling to have her in the house—is pregnant, alone herself, with nowhere to go. And out in the country, two brothers, elderly bachelors, work the family homestead, the only world they've ever known. From these unsettled lives emerges a vision of life, and of the town and landscape that bind them together—their fates somehow overcoming the powerful circumstances of place and station, their confusion, curiosity, dignity and humor intact and resonant. As the milieu widens to embrace fully four generations, Kent Haruf displays an emotional and aesthetic authority to rival the past masters of a classic American tradition.
Read an excerpt | Get the reader's guide
---
World and Town by Gish Jen
"[A] triumph of a novel. . . . Jen reflects America, at its best, its worst, its most vulnerable. World and Town is her richest, warmest work yet." —The Miami Herald 
Hattie Kong, a retired teacher and a descendant of Confucius, has decided that it's time to start over. She moves to the peaceful New England town of Riverlake, a place that once represented the rock-solid base of American life. Instead of quietude, Hattie discovers a town challenged by cell-phone towers, chain stores, and struggling farms. Soon Hattie is joined by an immigrant Cambodian family on the run, and—quite unexpectedly—Carter Hatch, a love from her past. As each character seeks to make a new start on life, World and Town asks deep, absorbing questions about religion, love, home, and meaning.
Read an excerpt| Get the reader's guide 

---
Goodnight, Nebraska by Tom McNeal
"McNeal is aware that many more of us will accept the sadness we know than venture out in search of a possibly painful unknown—and he renders such decisions in language whose very plainess feels musical."—The New York Times
At the age of 17, Randall Hunsacker shoots his mother's boyfriend, steals a car and comes close to killing himself. His second chance lies in a small Nebraska farm town, where the landmarks include McKibben's Mobil Station, Frmka's Superette, and a sign that says The Wages of Sin is Hell. This is Goodnight, a place so ingrown and provincial that Randall calls it "Sludgeville"-until he starts thinking of it as home.
In this pitch-perfect novel, Tom McNeal explores the currents of hope, passion, and cruelty beneath the surface of the American heartland. In  Randall, McNeal creates an outcast whose redemption lies in Goodnight, a strange, small, but ultimately embracing community where Randall will inspire fear and adulation, win the love of a beautiful girl and nearly throw it all away.
Read an excerpt | Get the reader's guide
---