There Are New Metaphors: An Excerpt from James Baldwin's I Am Not Your Negro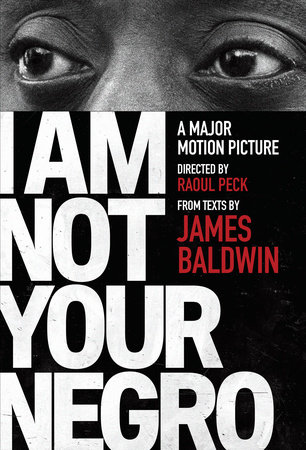 To create his Academy Award–nominated documentary film I Am Not Your Negro, acclaimed filmmaker Raoul Peck mined James Baldwin's published and unpublished oeuvre, selecting passages from his books, essays, letters, notes, and interviews that are every bit as incisive and pertinent now as they were when they were first written. Below, in an introduction to the script, Peck tells the story of meeting James Baldwin's younger sister Gloria and her role in the creation of I Am Not Your Negro.
"Wherefore Art Thou, Raoul? Wherever, pray All's Well. Don't know if you came across this JB quote, 1973: 'There are new metaphors. There are new sounds. There are new relations. Men and Women will be different. Children will be different. They will have to make money obsolete. Make a man's life worth more than that. Restore the idea of work as joy, not drudgery.'" —Gloria Karefa-Smart, letter to Raoul Peck, April 2009
I first met James Baldwin's younger sister Gloria Karefa-Smart ten years ago, when she opened her door to me in a gentrified old black neighborhood of Washington, D.C., where she has lived since the days when it was a dangerous place to visit. I had written to the Baldwin estate two weeks earlier to ask for access to the biographical rights to James Baldwin's life and work; more vaguely, I especially wanted to ask for permission to work on a yet-to-be-defined film. What material to request exactly I was still unsure of at this stage. I didn't yet know what this arduous, impossi­ble, unprecedented film project should or would be. I only knew that if I were going to tackle anything "Baldwin," it had better be strong and original.
And there I was, sipping tea with a soft-spoken, affable, and wise lady who had welcomed me into her refuge, which was rarely open to strangers. That day spent in Washington, D.C., was inspirational and most incredible. In Gloria, I had found a soul mate, a friend, and above all an ally with whom the conversation quickly became real, direct, sincere. I felt at home and welcomed.
Gloria had seen my films and in particular Lumumba, about the assassination of the first prime minister of Congo in 1961. She knew of my work and the themes I tack­led. These subjects, I discovered, were also relevant in her own life and her own political narrative. Later this common interest transformed itself into indelible affection. Gloria was decisive in transforming my years of doubt, failure, and setbacks into wonderful years of passion and exhilarating discovery.
Since that first meeting, Gloria has never once left my life. She has always been there, accompanying me, support­ive of the project, in times of trouble and lately in times of success. Her presence has been the most precious and cher­ished treasure of this entire journey.
The option granted to me by the estate was generous and unprecedented. As the years passed, unconcerned with the details of renewing the option, she allowed me to focus strictly on the success of the project and nothing else—which is an absolute exception in the business of film.
After four years of uncertain attempts on my part, Gloria one day gave me the decisive key to the film. She handed me a packet of some thirty pages of letters called "Notes Toward Remember This House," a book project that James Baldwin had never finished.
She casually told me, "Here Raoul, you'll know what to do with these."
And indeed, I knew immediately. A book that was never written! That's the story. And what characters! Medgar Evers, Malcolm X, and Martin Luther King, Jr. The notes themselves were not much to start with, but they were more than enough, given that I also had access to everything else from Baldwin. My job was to find that unwritten book. I Am Not Your Negro is the improbable result of that search.
So again, thank you, Gloria. Without your infinite patience, your discreet intelligence, and your limitless lov­ing support, none of this would have become a reality.
Excerpted from 
I Am Not Your Negro
 by James Baldwin. Copyright © 2017 by Raoul Peck. Excerpted by permission of Vintage Books. All rights reserved. No part of this excerpt may be reproduced or reprinted without permission in writing from the publisher.