Books to Expand Your Heart and Your Horizons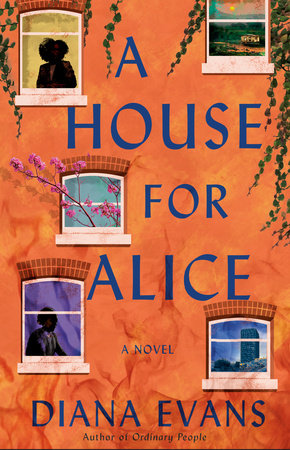 It's been shown that reading literary fiction improves empathy. Researchers at The New School in NYC found that when they gave study participants a literary fiction reading assignment and tested them afterward, they were better able to infer other people's thoughts and emotions, increasing their capacity for empathy. There are a lot of reasons to read a great novel, but this one is definitely up there. 
These books will take you into the minds of characters with diverse experiences and give you a glimpse of life in another person's world. Now more than ever, we could all use a little empathy.
A House for Alice by Diana Evans
On June 14, 2017, flames consumed a residential high-rise in West London, consuming Grenfell Tower and the lives of many of those who lived within. Across town, an errant cigarette catches fire to old newspapers, and Cornelius Winston Pitt—the complicated patriarch of the Pitt family—takes his last breaths alone. What follows is the story of the women in the Pitt family—his daughters and ex-wife, the Pitt matriarch who longs to return to her homeland of Nigeria—as they come to terms with the death, their relationships, their identities, their love, and their betrayals. Intimately drawn and set against a fraught political backdrop, yet equally full of hope, humor, and humanity, A House for Alice traces the scars of grief across generations and uncovers the secrets we keep from those closest to us.
---
The Boat People by Sharon Bala
When a rusty cargo ship carrying Mahindan and five hundred fellow refugees from Sri Lanka's bloody civil war reaches Vancouver's shores, the young father thinks he and his six-year-old son can finally start a new life. Instead, the group is thrown into a detention processing center, with government officials and news headlines speculating that among the "boat people" are members of a separatist militant organization responsible for countless suicide attacks—and that these terrorists now pose a threat to Canada's national security. As the refugees become subject to heavy interrogation, Mahindan begins to fear that a desperate act taken in Sri Lanka to fund their escape may now jeopardize his and his son's chance for asylum. The Boat People is a spellbinding and timely novel that provokes a deeply compassionate lens through which to view the current refugee crisis.
Read an excerpt | Buy the book
---
For Héctor and Lilia, pursuit of the American Dream became every parent's worst fear when their infant daughter vanished as they crossed from Mexico to the United States—now they must try to get her back. With great compassion and a keen awareness of current events, Michel Stone delivers a novel of surpassing sensitivity and heart. Michel Stone drops readers into the whirlwind of the contemporary immigrant experience, where a marriage is strained to the breaking point by the consequences of wanting more for the next generation.
Read an excerpt | View the reader's guide
---
The Book of Unknown Americans by Cristina Henríquez
When fifteen-year-old Maribel Rivera sustains a terrible injury, the Riveras leave behind a comfortable life in Mexico and risk everything to come to the United States so that Maribel can have the care she needs. Once they arrive, it's not long before Maribel attracts the attention of Mayor Toro, the son of one of their new neighbors, who sees a kindred spirit in this beautiful, damaged outsider. Their love story sets in motion events that will have profound repercussions for everyone involved. Here Henríquez seamlessly interweaves the story of these star-crossed lovers, and of the Rivera and Toro families, with the testimonials of men and women who have come to the United States from all over Latin America. The Book of Unknown Americans is a stunning novel of hopes and dreams, guilt and love—a book that offers a resonant new definition of what it means to be American.
Read an excerpt | View the reader's guide
---
When the Emperor Was Divine by Julie Otsuka
On a sunny day in Berkeley, California, in 1942, a woman sees a sign in a post office window, returns to her home, and matter-of-factly begins to pack her family's possessions. Like thousands of other Japanese Americans they have been reclassified, virtually overnight, as enemy aliens and are about to be uprooted from their home and sent to a dusty internment camp in the Utah desert.
In this lean and devastatingly evocative first novel, Julie Otsuka tells their story from five flawlessly realized points of view and conveys the exact emotional texture of their experience: the thin-walled barracks and barbed-wire fences, the omnipresent fear and loneliness, the unheralded feats of heroism. When the Emperor Was Divine is a work of enormous power that makes a shameful episode of our history as immediate as today's headlines.
Read an excerpt | View the reader's guide
---
All Our Names by Dinaw Mengestu
A sweeping, continent-spanning story about the love between men and women, between friends, and between citizens and their countries, All Our Names is a transfixing exploration of the relationships that define us. Fleeing war-torn Uganda for the American Midwest, Isaac begins a passionate affair with the social worker assigned to him. But the couple's bond is inescapably darkened by the secrets of Isaac's past: the country and the conflict he left behind and the beloved friend who changed the course of his life—and who sacrificed everything to ensure his freedom. From acclaimed author Dinaw Mengestu, here is a love story for our time.
Read an excerpt | View the reader's guide
---
Green Island by Shawna Yang Ryan
Taipei, February 28, 1947: As an uprising rocks Taiwan, a young doctor is taken from his newborn daughter by Chinese Nationalists on charges of speaking out against the government. Although he eventually returns to his family, his arrival is marked by alienation from his loved ones and paranoia among his community. Years later, this troubled past follows his youngest daughter to America, where, as a mother and a wife, she too is forced to decide between what is right and what might save her family—the same choice she witnessed her father make many years before. A stunningly lyrical story of a family and a nation grappling with the nuances of complicity and survival, Green Island raises the question: How far would you go for the ones you love?
Read an excerpt | View the reader's guide
---
Americanah by Chimamanda Ngozi Adichie
Ifemelu and Obinze are young and in love when they depart military-ruled Nigeria for the West. Beautiful, self-assured Ifemelu heads for America, where despite her academic success she is forced to grapple with what it means to be black for the first time. Quiet, thoughtful Obinze had hoped to join her, but with post–9/11 America closed to him, he instead plunges into a dangerous, undocumented life in London. Fifteen years later, they reunite in a newly democratic Nigeria, and reignite their passion—for each other and for their homeland.
Read an excerpt | View the reader's guide
---
At the center of this invigorating novel are two unlikely friends, Archie Jones and Samad Iqbal. Hapless veterans of World War II, Archie and Samad and their families become agents of England's irrevocable transformation. A second marriage to Clara Bowden, a beautiful, albeit tooth-challenged Jamaican half his age, quite literally gives Archie a second lease on life, and produces Irie, a knowing child whose personality doesn't quite match her name (Jamaican for "no problem"). Samad's late-in-life arranged marriage (he had to wait for his bride to be born) produces twin sons whose separate paths confound Iqbal's every effort to direct them, and a renewed, if selective, submission to his Islamic faith. Set against London' s racial and cultural tapestry, venturing across the former empire and into the past as it barrels toward the future, White Teeth revels in the ecstatic hodgepodge of modern life, flirting with disaster, confounding expectations, and embracing the comedy of daily existence.
Read an excerpt | View the reader's guide
---
The Mistress of Spices by Chitra Banerjee Divakaruni
A classic work of magical realism, this bestselling novel by Chitra Banerjee Divakaruni tells the story of Tilo, a young woman from another time who has a gift for the mystical art of creating spices.
Now immortal, and living in the gnarled and arthritic body of an old woman, Tilo has set up shop in Oakland, California, where she administers curatives to her customers.  But when she's surprised by an unexpected romance with a handsome stranger, she must choose between everlasting life and the vicissitudes of modern society. Spellbinding and hypnotizing, The Mistress of Spices is a tale of joy, sorrow, and one special woman's magical powers.
Read an excerpt | View the reader's guide
---
The Sandcastle Girls by Chris Bohjalian
When Elizabeth Endicott arrives in Aleppo, Syria, she has a diploma from Mount Holyoke, a crash course in nursing, and only the most basic grasp of the Armenian language. It's 1915, and Elizabeth has volunteered to help deliver food and medical aid to refugees of the Armenian Genocide during the First World War. There she meets Armen, a young Armenian engineer who has already lost his wife and infant daughter. After leaving Aleppo and traveling into Egypt to join the British Army, he begins to write Elizabeth letters, realizing that he has fallen in love with the wealthy young American.
Years later, their American granddaughter, Laura, embarks on a journey back through her family's history, uncovering a story of love, loss—and a wrenching secret that has been buried for generations.
Read an excerpt | View the reader's guide
---
The Lowland is an engrossing family saga steeped in history: the story of two very different brothers bound by tragedy, a fiercely brilliant woman haunted by her past, a country torn apart by revolution, and a love that endures long past death. Moving from the 1960s to the present, and from India to America and across generations, this dazzling novel is Jhumpa Lahiri at the height of her considerable powers.
Read an excerpt | View the reader's guide