A Tale of Two Sisters: The Characters of Homegoing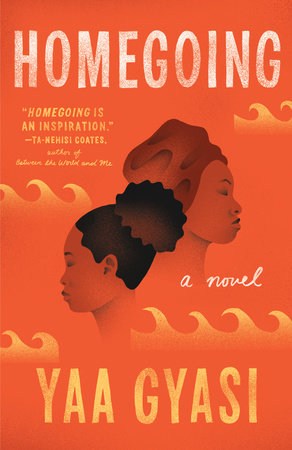 Winner of the PEN/Hemingway Award and the National Book Critics Circle's John Leonard Award, named a notable book of the year by The New York Times and The Washington Post, Homegoing is a stunning debut novel that signals the arrival of an exciting new literary voice. The novel spans three hundred years in Ghana and America, and follows eight generations as they adapt to an ever-evolving landscape rife with racism and hardship.
Born in eighteenth-century Africa, two half sisters are sent down completely different paths. One sister is married to an Englishman, while the other is sold into slavery. These disparate experiences will lay the foundation for those of each successive generation.
To introduce you to this story of race, ancestry, and love, we've compiled brief descriptions of each sister, alongside a printable version of their family tree. The two women's remarkable stories, along with those of their descendants, are sure to captivate you and your reading group.
Effia
A beautiful young woman, Effia is born to an Asante woman enslaved by the Fante people. Abandoned in her mother's haste to escape, Effia is left with her father and his first wife, Baaba, a woman who cannot love her and who resents her very existence, "'She has the body of a woman, but something evil lurks in her spirit,' Baaba said, spitting on the ground for emphasis." (p. 15)
Baaba beats her unwanted stepchild and plots to marry her off to the white governor of Cape Coast Castle as soon as she reaches womanhood. Bound to a man tasked with running the slave trade on the Gold Coast, Effia focuses her attention on having a child, all the while trying not to see or hear the suffering of those who are enslaved beneath her husband's castle.
Esi
Unbeknownst to Effia, her half sister, Esi, is one who passes through the forsaken dungeons beneath the castle. Born to Effia's mother and her Asante husband, Esi is taken captive as a teenager during a Fante raid. She suffers in the dungeon for days on end, haunted by happy memories of her childhood in Asanteland: "Hell was a place of remembering, each beautiful moment passed through the mind's eye until it fell to the ground like a rotten mango, perfectly useless, uselessly perfect." (p. 28)
Esi is eventually taken to America to be yet another mistreated slave on a plantation in the South. Her descendants in America will face generation after generation of racial tension and pain, illustrating just how much this nation has been shaped by the sins of its past.
To download a printable version of the family tree, click here.